Exercises for a well-developed upper body include bench and incline presses. Both types of presses work your triceps muscles -- backs of arms -- and deltoids -- shoulder muscles. They both also work your chest muscles -- pectoralis major and minor. Bench presses provide an overall chest exercise, while incline presses work your upper pecs. For balanced, well-developed pecs, do both types of presses.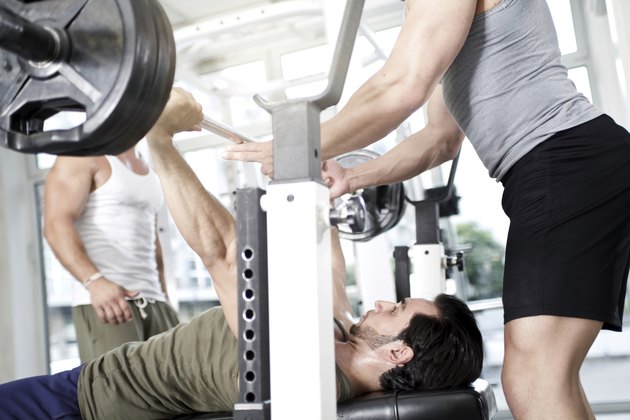 Incline Bench Specifics
Most incline press benches are capable of inclining at various degrees, from 45 degrees to 75 degrees. Benches with greater incline ability have seats, called seated incline benches. Pressing on an incline bench is more difficult than pressing on a flat bench, increasing the intensity of your workout. At greater degrees of incline, a rackless bench with a separate power rack is required for barbell presses, whereas a flat bench can accommodate an attached rack.
Muscle Workout
At an incline, the upper portion of your pectoral muscles -- the clavicular pecs, located just under your collarbones -- work harder than your lower and larger pectoral muscles -- the sternal pecs, the fullest part of your chest, including the nipple area. Use either barbells or dumbbells for standard bench presses or incline bench presses.