New mothers often return home from the hospital eager to start shedding pounds and regain their former body shape. Breastfeeding adds a new element to the situation since crash diets, diet pills and low-fat diets are not an option for nursing mothers. While breastfeeding moms can lose the baby weight, they need to pay extra attention to their nutritional intake, since caloric restriction can lead to an inadequate milk supply.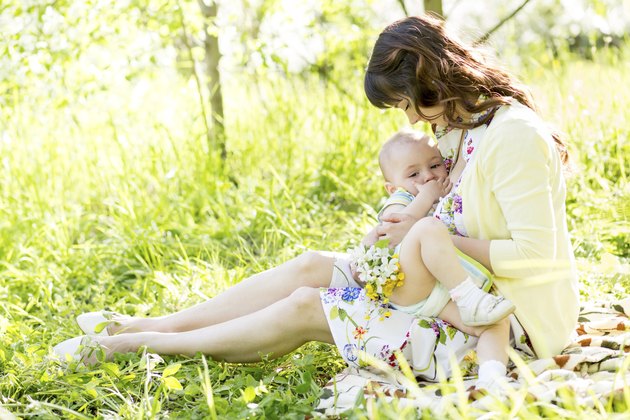 Significance
Since milk production burns extra calories, breastfeeding moms need to consume more calories than non-breastfeeding ones. Lactation consultant Kelly Bonata, owner of the breastfeeding advice site Kellymom.com, recommends nursing moms consume at least 1,500 to 1,800 calories each day to avoid jeopardizing their milk supply.
Time Frame
Dr. Judith Roepke, a nutritionist at Ball State University in Indiana, suggests waiting until your baby is 2 months old before beginning any type of weight loss regime. This allows you to heal from the physical rigors of birth and allows you to establish your milk supply. Since breastfeeding burns 200-500 calories a day, breastfeeding moms can often lose weight by eating a well-balanced diet and avoiding over-eating. If your weight loss stalls or you still need to shed pounds after two months, La Leche League recommends increasing your activity level and cutting your caloric intake by 100 calories a day.
Considerations
Your body can usually ensure your breast milk provides optimal nutrition for your baby even when your diet is less than perfect. While this is good news for your baby, it can deplete your reserves of vital nutrients, which can potentially jeopardize your health. Eileen Behan, R.D., author of "Eat Well, Lose Weight While Breastfeeding," advises breastfeeding moms to eat a healthy, well-rounded diet rich in Omega-3, seafood and fruits and veggies.
Misconceptions
Since a nursing mom's actual caloric needs vary according to her weight, how often she exercises, her metabolism--as well as the size of her baby and how frequently he or she nurses, there is no one "magic number" of calories needed during breastfeeding. The Babycenter Medical Advisory board suggests nursing moms avoid focusing on consuming a set number of calories.
Warning
Any type of drastic caloric restriction, including fad diets and crash diets, can cause problems for breastfeeding moms and their babies. The Babycenter Medical Advisory Board cautions that rapid weight loss can release environmental contaminants--stored in the body as fat--into your blood stream, and ultimately into your breast milk. Rapid weight loss can also diminish your milk supply and sap your energy, leaving you over-tired.