Energy drinks are popular beverages promoted as energy enhancers. They are usually carbonated and contain caffeine or other stimulants, such as ginseng and tea extracts. People may consume energy drinks for improved athletic performance, weight reduction or for energy to stay up for work or recreational activities late into the night. Routine or excessive energy drink consumption poses numerous risks. While diet energy drinks contain less calories and sugar than regular varieties, they pose similar risks.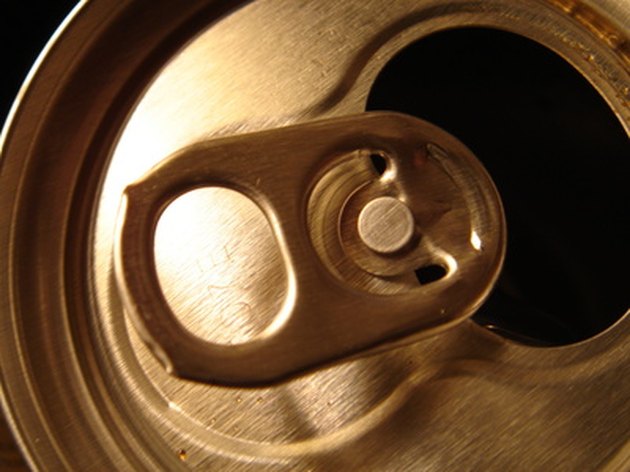 Function
People may reach for diet energy drinks for numerous reasons. Increased energy is perhaps the most obvious. In addition, dieters may opt for energy drinks in place of high-calorie foods or beverages while restricting calories, to manage appetite or for a metabolism boost. Athletes may drink energy drinks prior to exercise in hopes of heightened athletic performance.
Emotional Risks
Energy drinks may negatively impact a person's moods and emotional health. According to Mayo Clinic physical medicine and rehabilitation specialist, Edward R. Laskowski, M.D., energy drinks may cause irritability, restlessness and nervousness.
Since people vary in caffeine sensitivity, some individuals may experience intense emotional effects shortly after consuming energy drinks and more significant "crash" effects once the stimulants wear off. Those with psychological disorders, such as anxiety and depression, may stand at heightened risk for these effects.
Physical Risks
Depending upon the ingredients and how much volume a person consumes, energy drinks may cause adverse physical symptoms. According to Dr. Laskowski, energy drinks are known to cause rapid heartbeat and blood pressure increases. People may experience irregular heart rhythms, which are sometimes dangerous.
Though research findings are mixed, Dr. Laskowski suggests that caffeine and other ingredients in energy drinks may trigger dehydration during physical activity. In severe cases, excessive energy drink consumption has been linked with seizures, chest pain, heart attacks and sudden death.
Alcohol Hazards
Combining energy drinks with alcohol has become a growing trend in America. According to the Marin Institute, 31 percent of youth ages 12 to 17 and 34 percent of young adults ages 18 to 24 report routine energy drink consumption. For this reason, many alcoholic beverage companies are targeting this age group in promotion of energy drinks combined with alcohol.
Youth and young adults hoping to keep their calorie intake low while drinking alcohol may opt for sugar-free energy drinks combined with alcohol. Regular and diet energy drinks combined with alcohol pose multiple dangers. Though people may believe that it's harder to get drunk while drinking stimulants, what actually happens is their assessment of their intoxication is reduced. As a result, risk for injuries, drinking while intoxicated and life-threatening accidents may increase.
According to Dr. Laskowski, alcohol also compounds the negative side effects of energy drinks, such as irritability and heart problems.
Cognitive and Sleep Problems
Caffeine and other stimulants contained in energy drinks may negatively affect a person's ability to think clearly or focus on important tasks. According to the National Sleep Foundation or NSF, the effects of caffeine are temporary and do not restore restfulness attained from adequate sleep. In addition, people who consume energy drinks or other caffeinated beverages regularly are more likely to struggle with insomnia.
Suggestions
While moderate, occasional consumption of energy drinks is generally considered safe, precautions should be taken. Energy drinks vary substantially in content of caffeine, additional stimulants and other ingredients.
Dr. Laskowski recommends water and/or sports drinks as the optimum energy enhancer during workouts. Overweight individuals may fare better by increasing physical activity and adhering to a nutrient-rich diet than from over-consumption of diet energy drinks.
The National Sleep Foundation recommends healthy sleep habits and naps when necessary as optimum means of energy enhancement.