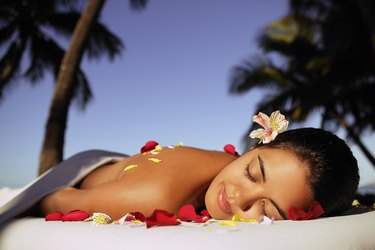 Kukui nut oil has been used for many years throughout the islands of Hawaii. More recently it has become more mainstream in the rest of the world. Kukui nut oil is used to moisturize and protect the skin from sun, salt, wind and other environmental elements. Kukui oil is also used for minor skin irritations, wounds, and burns. It is most commonly used as a massage oil. The fatty acids present in kukui nut make it a superior moisturizing product for dry skin and hair.
Glowing Skin
Kukui nut oil penetrates the skin easily and leaves the skin feeling silky and smooth. Kukui nut oil does not leave the skin feeling greasy. This oil contains vitamins A, C, and E, which are antioxidants known to protect the skin and prevent free-radical damage to the skin cells. Kukui nut oil can leave even the driest, dullest, aging skin looking healthy and radiant. Kukui nut oil also works well as an under eye treatment for the prevention and softening of crow's feet.
Skin Protector/Healer
Kukui nut oil is easily absorbed by the deepest layers of the skin, and forms a protective barrier on the skin that protects against environmental damage. Kukui nut oil is used to treat sunburns, windburns, eczema, chapped skin, psoriasis, dry skin conditions, acne, scars, lesions and maturing skin. According to an article on aromaweb.com, kukui nut oil is composed of 42 percent linoleic acid and 29 percent alpha-linolenic acid, which may help to heal certain skin conditions, while keeping the skin healthy and nourished.
Hair Treatment
Hawaiians use kukui nut oil on dry hair that has been damaged by overexposure to elements such as the sun and wind. The amino acids and essential fatty acids present in kukui nut oil penetrate the hair shaft and leave hair looking healthy and moisturized. Kukui nut oil can be used as a treatment for an itchy scalp or dandruff. It has the same regenerative effects on the hair and scalp as it does for the skin. According to an article on hairmatters.us, the gamma-linoleic acid present in kukui nut oil makes it useful as a leave-in treatment that conditions, imparts shines, and restores moisture to hair.