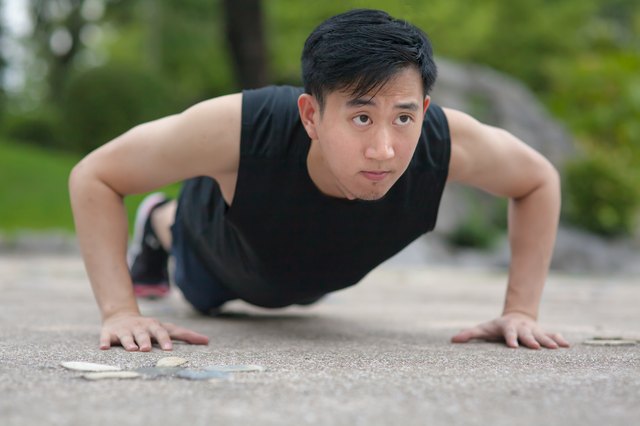 Whether you work out exclusively at home or only when you can't make it to the gym, there are numerous exercises you can perform for your pectoralis major muscles, or pecs for short. Your pecs, located on the front of your upper torso, are responsible for drawing your arm across your body and down into your midline from shoulder height.
Wide Arm Pushups
All variations of pushups work your upper body, but wide arm pushups put an emphasis on your pecs. Place your hands on the floor at around 1 1/2 shoulder-widths apart. Move your feet backward so your body is straight. With your hands facing forward and your abdominals tense, bend your arms and lower your chest to the floor. Pause with your chest not quite touching the floor and then extend your arms and drive back up into the starting position. Perform as many reps as you can before resting for a moment and repeating. If you find pushups too challenging, bend your legs and place your knees on the floor for an easier exercise.
Atlas Push-ups
Atlas pushups are an advanced variation that will provide your pecs with a good workout. Place three sturdy chairs in a T formation with the seats facing inward and the top two chairs around 3 feet apart. Place your feet on the chair at the bottom of the T and a hand on either chair at the top. With your arms extended, make sure your head, hips and heels are all aligned. Keeping your abs tense, bend your arms and lower your chest below your hands. Only descend as far as your shoulder flexibility allows. Push back up into the starting position and repeat for the desired number of reps.
Stair Dips
Dips emphasize your lower chest. Sit on a step and place your hands on either side of your hips. Place your legs out in front of you. Extend your arms and shift your butt forward so that it is clear of the step. Bend your arms and lower your butt toward the floor -- only bend your arms as far as is comfortable. Push back up into the starting position and repeat. The closer your feet are to your butt, the easier this exercise will be.
Doorway Chest Stretch
Stretching your pecs is as important as strengthening them, and the doorway chest stretch is both simple and effective. Stand in an open doorway and place your forearms on the door frame. Your upper arms should be parallel to the floor and your elbows bent to 90 degrees. Adopt a staggered stance. Gently press your chest between your arms while keeping your arms in place on the door frame. As you exhale and relax, try to lean further forward to increase the stretch. Hold the most stretched position for 30 to 60 seconds to improve your flexibility or 10 to 15 seconds for maintenance.