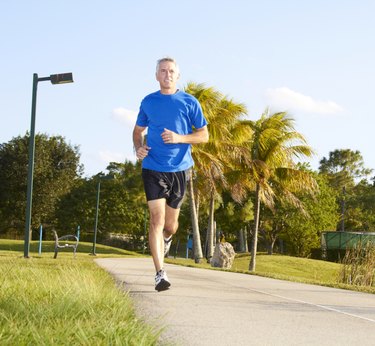 Your heart rate recovery zone indicates how exercise affects your heart. Whether you are an exercise newbie or a seasoned athlete, it is helpful to know how long it takes your heart to recover from exercise and return to its resting rhythm. You can check it yourself by recording your heart rate while at rest and after exercise.
Calculating Your Recovery Heart Rate
First, take your pulse while you're relaxed. On average, the resting heart rate is between 60 and 100 beats per minute. Exercise to reach your target heart rate, which is 60 to 80 percent of 220 minus your age. Once your heart rate is within the target range, stop exercising and measure your heart rate immediately. Rest for two minutes and take your pulse again. The difference between the two numbers indicates your recovery rate zone. A difference of 66, for example, is a healthier recovery rate than 22. Basically, the faster your heart can return to its resting rate after exercise, the better shape you are in. Your biological age might even be lower than your chronological age.