Your back is made up of two major muscles. That includes the trapezius muscle, a large muscle that spans across the back of the neck and shoulders, down to the top of the lower latissimus dorsi muscle. The latissimus dorsi muscle runs up both sides of the lower and middle back, the broadest muscle in the back, primarily responsible for the adduction, rotation and extension of the arm. To strengthen your lower back, use targeted exercises for the latissimus dorsi muscle.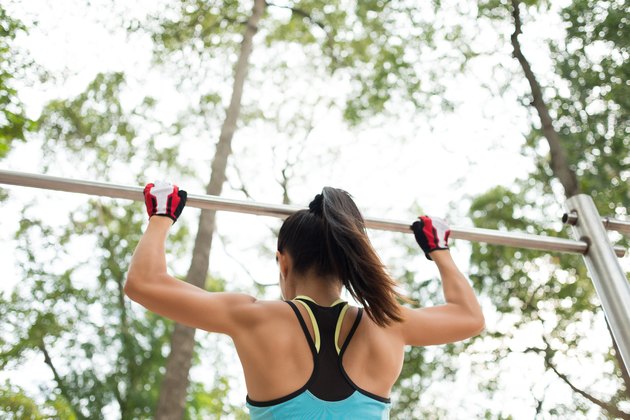 Pull it Up
Pullups are one of the most effective exercises for building strength and power in your lower back. Grasp onto the top of a pullup bar with a wide overhand grip. Extend your legs straight, feet together. Flex your elbows, drawing your body up toward the bar, until your chin is just above the bar. Slowly lower yourself back down for one rep.
Grab a Barbell and Pullover
An isolated exercise, the barbell pullover directly targets the latissimus dorsi muscle. Position your upper back flat across the center of a weight bench so your body is perpendicular to the bench, forming a straight line with your torso and thighs, legs bent at a 90-degree angle, your feet flat on the floor. Extend your arms so they're nearly straight above you, hands aligned with your shoulders, grasping onto a barbell. Slowly move your arms back, until your arms are aligned with your torso. Return to your starting position. Repeat.
Pulldown with Cables
Work your lower back with the cable close grip pulldown exercise. With a high pulley machine, start in a seated position, back straight, hands grasping onto the cable attachment in front of you. Your arms should be fully extended, hands together. Pull down on the cable attachment, drawing it down toward your chest. Return until your arms and shoulders are fully extended again, then repeat.
Don't Skip Stretching
Stretching is an essential part of any workout routine, especially for the back muscles, which can easily become stiff and sore. For the latissimus dorsi muscles, include stretches such as the bent-over lat stretch, overhead lat stretch and the standing side reach lat stretch. These static stretches are best when performed post-workout. Always hold until you feel a light amount of tension in your lower back. You should never feel any sharp pain or discomfort.