Raising the incline on a treadmill makes your workout harder and helps you burn more calories. Hill training also effectively improves your running strength, efficiency, power and aerobic conditioning, notes Rick Morris, author of "Treadmill Training for Runners." How you approach hills depends on your fitness level, but regardless of whether you walk or run them, you will burn more calories than moving along at a 0 percent grade.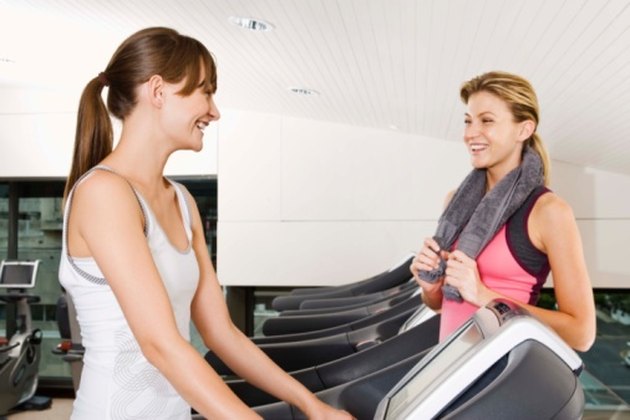 1 Percent
According to a study in the "Journal of Sports Sciences" published in 1996, treadmill running on a 1 percent grade most accurately reflects the energy expenditure experienced from an outdoor run. This means that running outdoors at about 6 mph, or indoors on a treadmill at 6 mph at an incline of 1 percent, will burn about 295 calories in 30 minutes for a 130-pound, person according to the activity calculator at the website Caloriesperhour.com.
Walking
For people unable or unwilling to increase intensity by increasing speed, adding hills offers a way to burn more calories during a workout. How many calories you burn during walking depends on your speed, size and efficiency. Adding an incline to your walk definitely increases the challenge of your walk and the calorie burn. On a flat belt, a 130-pound person going 4 mph burns about 120 calories in 30 minutes. Up the incline to 5 percent and burn 198 calories in the same amount of time. If you can sustain your speed at 10 percent, you will burn 280 calories, and at a steep 15 percent incline, expect to burn 360 calories in a half hour. Hiking up a 15 percent incline at 4 mph, however, is no easy feat.
Running
Running uphill also burns more calories than running on a flat belt. At a 5 percent incline, a 130-pound person can expect to burn about 360 calories in a half hour at a 6 mph pace. Increase that to 10 percent, which is exceptionally challenging to maintain, and burn about 60 calories more for a total of 420 calories. If you can manage to maintain a 6 mph pace on a 15 percent incline for 30 minutes, you will burn about 481 calories in 30 minutes. As running up these steep grades for more than a few minutes at a time is unrealistic even for the most fit athletes, think in terms of calories burned per minute. The 130-pound person going 6 mph on a 1 percent incline burns 9.8 calories per minute, while a 15 percent incline causes you to burn 16 calories per minute. To increase your overall calorie burn in a sustainable way, consider adding one-minute hill intervals during your run. Sustain your 6 mph pace, but run two minutes on a 1 percent grade and one minute on a 15 percent grade. Alternate 10 times for a 30-minute workout--not including warm-up and cool-down--to burn about 60 more calories than you would running on a consistently flat belt.