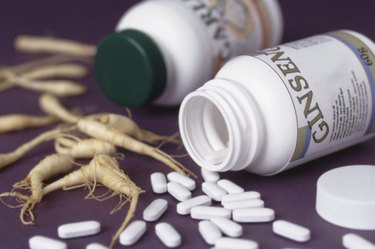 The root of the Panax ginseng plant has been used for centuries as a component of traditional Chinese medicine, or TCM. TCM practitioners and Western herbalists widely promote Panax ginseng as an adaptogen, or an herb that enables a healthier response to physical or mental stress. Scientific studies have validated many of the traditional uses attributed to Panax ginseng, including its use as a male sexual stimulant. Consult your health care provider before using Panax ginseng or any other medicinal herb, particularly if you have a medical condition.
Sexual Performance
Traditionally, TCM practitioners have believed that Panax ginseng can improve sexual performance in both men and women. Although few studies have investigated its exact effects, the Maryland University Medical Center suggests that it may improve libido, or sexual interest. Panax ginseng's exact relationship with sex drive is not well understood, but it is believed to work by enabling the body to adapt to stress with fewer fluctuations in sex drive.
Erectile Dysfunction
According to the National Institutes of Health, Panax ginseng can reduce the symptoms of erectile dysfunction, or male impotence. Men taking Panax ginseng may have firmer, longer-lasting erections that are easier to attain. However, the NIH reports that more well-designed studies are needed to establish Panax ginseng's safety and efficacy as a treatment for this common sexual dysfunction.
Fertility Support
The National Institutes of Health suggests that Panax ginseng can improve fertility in men. Men taking Panax ginseng supplements have higher sperm counts and increased sperm motility, so herbalists frequently recommend ginseng as a complementary treatment option for men with infertility caused by low sperm count. The University of Maryland Medical Center additionally notes that animals given ginseng supplements experience increased sperm production. More studies are needed to determine the best effective dose for treating male infertility.
Premature Ejaculation
According to the NIH, a combination of herbs including Panax ginseng may help to treat premature ejaculation. The treatment involved the topical application of 0.20 grams of suspension cream to the genitals. Although early studies support the efficacy of this treatment option, no well-designed tests have investigated the effects of Panax ginseng alone.