Underweight girls may experience teasing from their peers because of their appearance. They may also be more vulnerable to illness, experience irregular periods and have trouble excelling in athletics. A teenage girl can gain weight by employing specific dietary and exercise strategies. Avoiding junk food will ensure that you put on healthy weight.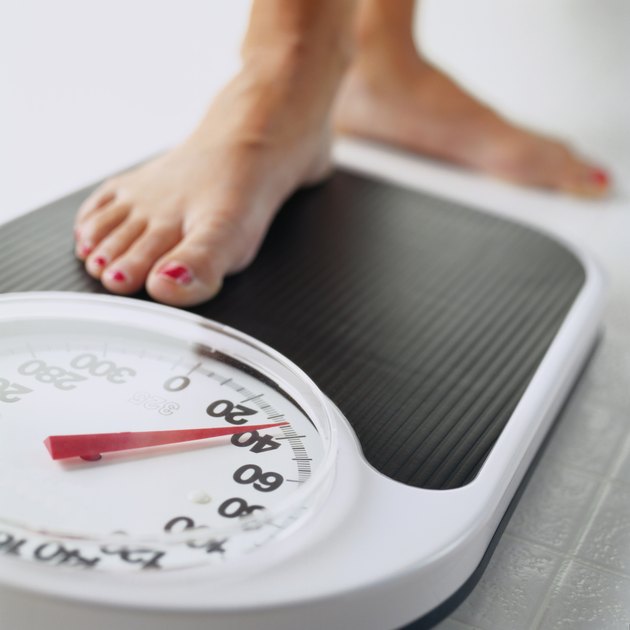 Step 1
Eat more calories than you burn everyday. Use an online calculator, like the one found at caloriesperhour.com to determine your daily burn and add between 250 and 500 calories a day to gain between one-half and one pound per week. Use healthy foods to augment your diet, rather than junk foods that only add fat to your frame.
Step 2
Start each day with breakfast. Go for oatmeal with walnuts and low-fat milk, whole grain granola with bananas or whole wheat pancakes with blueberries and almonds. Grab a yogurt smoothie with a handful of nuts and a banana to eat on your way to school if you are short on time. Do not skip meals while trying to gain weight because you miss an opportunity to pad your caloric intake.
Step 3
Try to fit in a meal or snack every two to three hours. Carry snacks like trail mix or energy bars in your backpack to eat between classes. Eat an extra whole wheat roll with lunch to add about 150 calories to your lunch. Ask your family to help you prepare dinners that include healthy lean meats and starches like brown rice and vegetables, but eat about 20 percent more than usual to add 100 to 150 more calories to your daily intake.
Step 4
Make the foods you already consume higher in calorie, especially if you have a light appetite or are self-conscious about eating a lot in front of others. Eat a sandwich with two tablespoons of peanut butter rather than two ounces of turkey to add 210 calories. Drizzle a teaspoon of olive oil and add a tablespoon of sunflower seeds to your salad for another 100 calories. Snack on a half cup of nuts mixed with dried fruit instead of popcorn to add another 150 healthy calories to your daily intake.
Step 5
Drink calories throughout the day. Choose 100 percent juice like orange or grape to give you about 80 calories per 8-ounce serving. Down a glass of low-fat milk after dinner to add 100 calories and obtain calcium to help you with bone development. Make an after-school smoothie with fresh fruit, soy milk and nut butter for a 300-calorie boost.
Step 6
Stay active. Take walks with friends or continue to go to sports practice because the movement can help stimulate your appetite and promote lean muscle development. Eat a hearty snack like crackers and low-fat cheese or a bowl of cereal with low-fat milk immediately after your exercise to replenish lost calories.
Things You'll Need
Nuts

Peanut butter

Whole grain bread

Brown rice

Granola

Energy bars

Juice

Low-fat milk
Tip
While you are trying to gain weight, you do have room for extra calories--but do not load up on candy bars, cookies and fried foods. These may add calories to your day and cause weight gain, but they do not provide any nutrition to a growing teenage girl. If you are gaining weight to do better in sports or to look better, gaining fat will not help you reach your goals. Make healthy food choices often. Choose grilled chicken over ground beef when you visit fast food restaurants with friends. Order a baked potato instead of fries.