Bodybuilders use various techniques to come in extremely lean for their shows. Their usual diet of high protein, moderate carbohydrates and low fat helps them build muscle to fill out their physique in the off-season. When a show is approaching, the calories from all sources are reduced each week in order to achieve single digit body fat, which is called contest shape.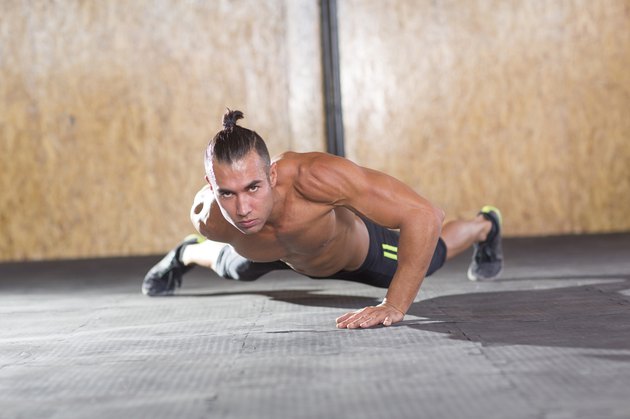 Starting the Diet
Once a bodybuilder picks a contest in which to compete, dieting starts 12 to 20 weeks out from the show, depending on how much body fat the competitor needs to lose. On average, the bodybuilder will want to lose one to two pounds of fat, while preserving as much muscle mass as possible. According to the Ultimate Bodybuilding Guide, a bodybuilder can expect to lose one pound of muscle for every three pounds of body fat. Having enough time to diet can lessen muscle loss by preventing the competitor from crash dieting to lose a large amount of body fat.
Phase One
The first phase of the pre-competition diet is simple; you will eliminate all unnecessary foods such as cheeses, fried foods, pizza, hamburgers, any foods containing sugar, including desserts, ice cream, sorbets, cakes, cookies and pies. Baseline calories are determined for carbs, protein and fats to promote one to two pound weight loss. Once per week, a cheat meal or re-feed day are used, especially if the competitor is starting the diet process more than three months out from the show.
Phase Two
The second phase of the competition diet may start as early as 12 weeks out for a show. This is called "crunch" time as the bodybuilder is very serious about getting ready for a show. During this phase of the diet, all cheats are removed from the diet. Vegetables become a staple with all meals as the carbohydrate content of meals is decreased. This comes three months out from a show and cardio is added or intensified at this time.
Phase Three
The third phase of the diet is carb depleting. Competitors will stop eating carbs or eat very small amounts to empty out their carb stores. This starts the Monday before the show and ends Wednesday night or Thursday morning before the show.
Peaking
The fourth phase is called carb loading in order to peak for pre-judging of the show. Foods bodybuilders will eat to peak include peanut butter, rice cakes, honey, birthday cake, fresh fruits, dried fruits, sugary snack bars, and wine. It is believed that by eating foods rich in sugar, the muscles will take the carbs in faster and will look fuller.