Skinny legs are the product of several factors, including your natural body shape, your body fat percentage, your diet and your fitness routine. If you have naturally skinny legs, you may not be able to achieve bulky, highly muscular legs, but you can add some shape and definition with the right diet and exercise plan.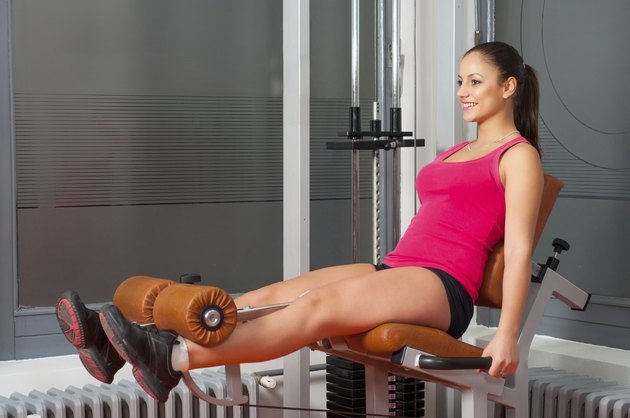 Step 1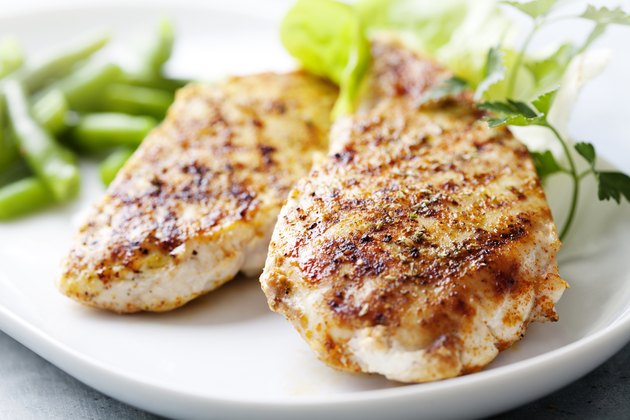 Eat a diet rich in protein, which helps your body build healthy muscle tissue. The U.S. Centers for Disease Control and prevention recommends at least 46 grams of protein each day for women and 56 grams for men. There are 8 grams of protein in a cup of milk and 21 grams in most 3-ounce pieces of meat.
Step 2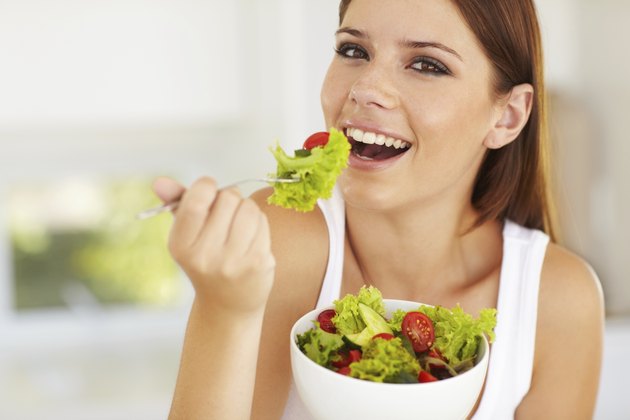 Examine your daily caloric intake. Your daily calorie needs will vary with your age and activity level, though most people need around 2,000 calories per day. If you're not getting enough calories, your legs won't bulk up, and you may even lose weight. Your doctor can help you figure out how many calories you need, but the more active you become, the more you'll need to eat.
Step 3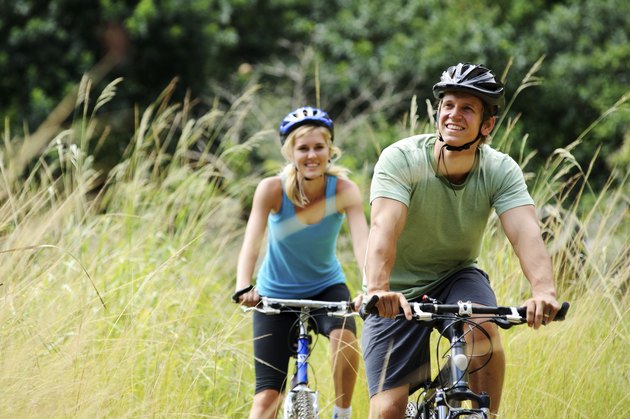 Focus on aerobic exercises that build muscle. Long-distance running tends to yield skinny legs, while sprinters often have more bulk. Similarly, activities such as cycling, swimming and circuit training can help you build muscle. The U.S. Center for Disease Control and Prevention advises 75 minutes each week of intense aerobic activity -- such as high-intensity swimming -- or 150 minutes of moderate activity, such as walking. Because cardiovascular exercise burns calories, you'll need to eat more if you want to maintain your current weight. For example, a 125-pound person burns about 240 calories running 5 mph. You could make up this caloric deficit by eating about three hard-boiled eggs or two salmon patties.
Step 4
Perform muscle-building bodyweight exercises that work your calves. To do a calf raise, stand up straight and slowly rise up to the balls of your feet, holding for about two seconds. To work your calves even more, try holding a 5-pound weight in each hand. Aim for at least two sets of 10 reps. Exercise machines such as the calf press, which requires you to push a weight forward using your calves, can also bulk up the lower portion of your legs. Start with five reps, building up to two or more sets of five to 10 reps.
Step 5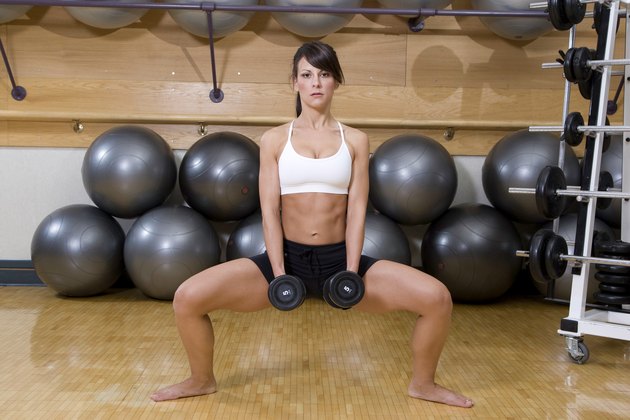 Work the quads and hamstrings of your thighs by doing squats. Stand up with your spine straight, then lower your torso back and toward the ground as if you're going to sit on a bench. Do 10 reps and at least two sets. Then try lunges. Stand and take a large step forward so that your front leg is about three feet in front of you back leg. Then lower your torso to the ground, bending both knees to form 90-degree angles. Return to your starting position and repeat, this time taking a step forward with your other leg. Perform five reps with each leg, then build up to 10 reps and two or more sets. For even more intensity, try holding hand weights as you perform these exercises.
Step 6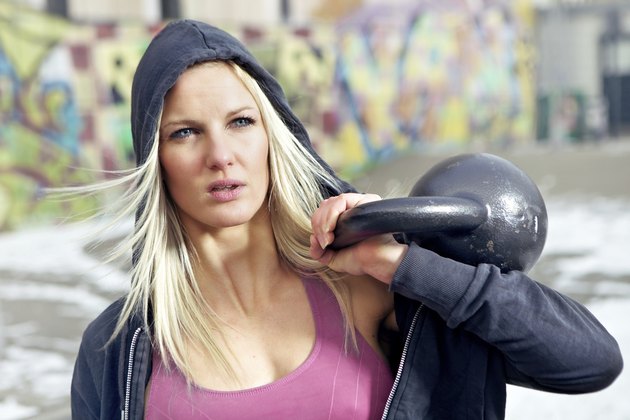 Incorporate kettlebells into your leg workout as you build strength. Try a kettlebell deadlift by positioning one kettlebell on the ground immediately next to and on the side of each foot. Bend your knees, keeping your back straight, and pick up each kettlebell, returning to a standing position. Repeat for five reps. Make the workout even more challenging by standing on one leg as you squat down.
Tip
Some gyms have personal trainers who can help you design personalized fitness plans.
Choose weights that you don't have to strain to pick up, but that are sufficiently heavy to immediately make your workout more challenging.