The eyelids, or palpebrae, have some of the thinnest skin of the body and serve to protect the eyes. The eyelashes also protect the eyes from sweat, dust and debris. Secretions such as tears keep the eyes moist. Infections and inflammation can occur within the skin and glands of the eyelids, leading to swelling.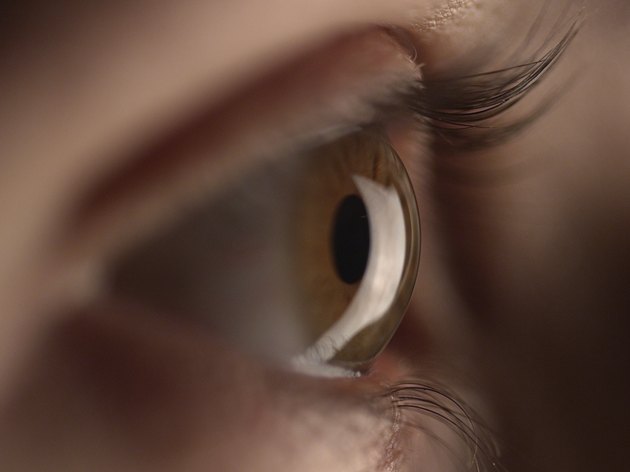 Epidermal Inclusion Cyst
An epidermal inclusion cyst is a lesion that can occur under the skin of the eyelid. It causes a slow swelling of the tissues. It may be present at birth, but often arises after surgery or trauma. These can become infected, causing an inflammatory reaction that leads to more swelling. Treatment is surgical removal.
Chalazion
According to MedlinePlus, a website provided by the National Institutes of Health, blockage of a tiny oil gland in the eyelid can cause a small bump to form. This is known as a chalazion. There are about 100 of these oil glands, referred to as Meibomian glands, near the eyelashes. A chalazion may be treated with warm compresses, but will usually disappear on its own in about a month. Surgery may be required in rare cases.
Sty
A sty is also known as a hordeolum. It is similar to a chalazion, but is more often associated with a bacterial infection. It is characterized by a painful red lump near the edge of the eyelid that looks like a pimple and may be filled with pus. Like a chalazion, it tends to disappear on its own--usually in about a week. It can also be treated with warm compresses.
Acute Dacryocystitis
Dacryocystitis is an infection in the lacrimal, or tear, sac or duct. Tear duct infections are most common in infants but can occur at any age. Symptoms of acute dacryocystitis can include excessive tearing, pus or discharge, fever, pain, redness and swelling. Treatment is generally with antibiotics, but the condition may require surgical intervention.