Trends in fitness come and go but there is one exercise that is classic, works multiple body parts, is inexpensive and can be performed by individuals at any fitness level: the pushup. The best way to work toward a perfect pushup is by progressively increasing the difficulty of the motion. Start with wall pushups until you can comfortably complete 30 in a row, then repeat the process with incline push-ups until you reach 30 straight. At that point, you will be ready able to do perfect pushups.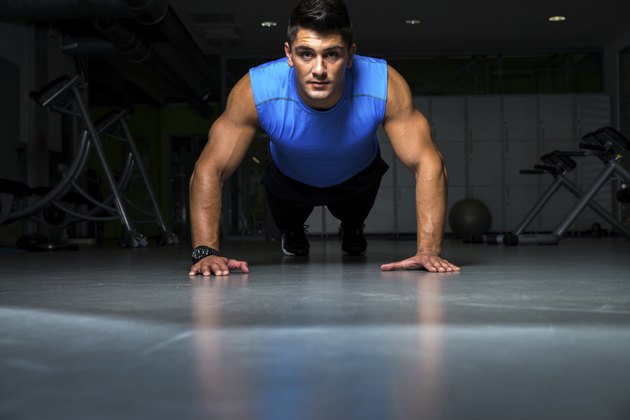 Step 1
Start with wall pushups. Wall pushups reduce the amount of pressure felt on your arms and upper back. If you stand close to the wall, the strain is very little. This is a great way to get a feel for proper pushup form. You should be able to perform three sets of 15 repetitions or 30 straight wall pushups before progressing to the next step.
Step 2
Perform incline pushups on a flight of stairs or by placing your hands on a raised platform. Place your hands on the fourth or fifth step in front of you. Get into a pushup position, keeping your legs straight. Before moving to a standard pushup, make sure you can complete three sets of 15 incline pushups or 30 repetitions in a row.
Step 3
Lie face-down on the ground with your hands shoulder-width apart. Keep your back straight and hands aligned with your shoulder as you push your body from the ground. Remember to keep your legs locked. As you lower, go until your chest grazes the floor. Repeat. At this point, you should be able to do at least a half-dozen perfect pushups.
Tip
If you are concerned you are not performing the perfect pushup, consult a friend, trainer or even an online video. Proper pushup form is essential to the perfect pushup.
Use a mirror or video camera. This will allow you to see your form and make the necessary adjustments.
The wall to incline to regular pushup is a progression that can work for anyone. Be sure to engage in a one-day recovery period before progressing. Recovery is an important part of any workout program because it will help you repair and become stronger.
Warning
If it hurts, stop. If you feel any type of pain or joint discomfort while performing a pushup, discontinue exercise and consult your physician. It is important to find out the root of your pain before any serious issues arise. If you have had previous upper extremity issues or injuries, a pushup might not be the perfect exercise for you.