Prolonged periods of sitting may contribute to back pain and tight muscles in your neck and shoulders. Replacing your office chair with an exercise ball may reduce back pain and improve your posture while building core strength. Exercise balls allow more freedom of movement than chairs and sitting on one at work may prevent stiffness associated with sitting in a constrained position. Determining which ball size fits your height and learning the correct way to sit on it ensures that the exercise ball is a comfortable and beneficial addition to your office.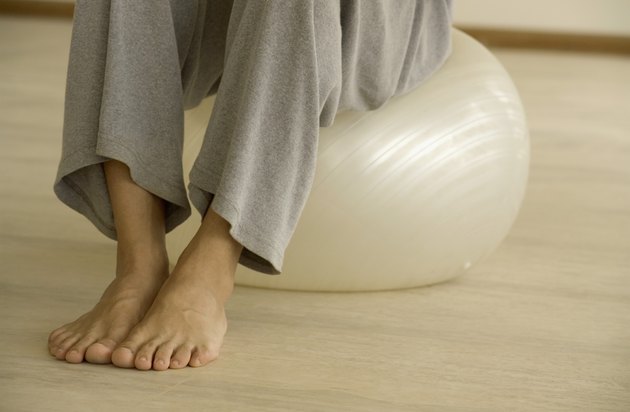 Step 1
Buy the right size ball for your height. Generally, if you're 5 feet, 1 inch to 5 feet, 7 inches tall, buy a 22 inch ball. If you're 5 feet, 8 inches to 6 feet, 2 inches, then you'll need a 26 inch ball. Over 6 feet, and you'll need a 30 inch ball.
Step 2
Inflate the ball until you can sit on it with your feet resting flat on the floor and your legs at a 90-degree angle to the floor.
Step 3
Tighten your abdominal muscles and straighten your back. Relax your shoulders and place your hands on your desk. In the correct position, your arms will form a 90-degree angle. If you are sitting on the correct size ball and your elbows don't rest on the desk, you may need to adjust your desk height. Incorrect arm positioning while sitting on the ball at your desk may cause shoulder and arm pain.
Step 4
Widen your feet to increase your stability while sitting on the ball. Move your feet closer to challenge your balance and core muscles.
Step 5
Adjust your computer screen or monitor to eye level to prevent neck or shoulder strain while you read and sit on the ball.
Tip
Stand up and walk around two to three minutes every half hour to prevent your muscles from becoming stiff.
Sit on the ball for a few minutes each day and build your core strength before increasing your time on the ball. Store it fully inflated under your desk when it's not in use.
Increase your activity level at work: do push-ups, squats and crunches with the ball during your breaks.
Warning
Don't forget that you're sitting on a moving object. Keep your feet planted on the floor so that you don't inadvertently topple over.