Dilation of the blood vessels within the eye gives the appearance of redness on the surface of the eye. Common causes of red eyes include extremely dry air, sun exposure, dust, foreign body and an allergic reaction. Derivatives of the medication imidazoline, antihistamines and corticosteroids are ingredients found in over-the-counter eye drops used to relieve eye redness, burning, irritation and dryness caused by exposure to environmental elements.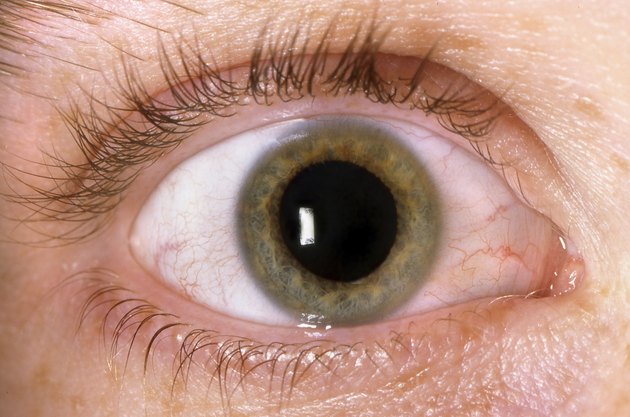 Rebound Eye Redness
Rebound eye redness is a side effect of overuse of eye drops intended to relieve eye redness. Imidazoline works as a vasoconstrictor, causing the narrowing of blood vessels. Over-the-counter eye drops work quickly to reduce redness, but do not eliminate the cause of the redness. Rebound redness results because the blood vessels in the eye dilate as the effects of the medication in the drops wears off. Overuse of eye drops to relieve the symptom without correcting the cause sets up a cycle of dependency and misuse. Eye drops should be used only as directed, and are not intended for long-term use. According to MayoClinic.com, when over used, eye drops containing imidazoline can cause permanent redness and damage to the blood vessels in the eye.
Eye Irritation
Some brands of eye drops contain an antihistamine in addition to imidazoline. An antihistamine blocks histamine, a chemical released by the immune system in response to an allergic reaction. Histamine dilates blood vessels. Eye drops containing both an antihistamine and any derivative of imidazoline will relieve redness by constricting blood vessels. MayoClinic.com warns that eye irritation is a side effect of this type of eye drops. Symptoms include watery eyes, headache, and a mild stinging or burning of the eyes. Eye inflammation is a risk for users who wear contact lenses.
Eye Infections
Eye drops that contain a corticosteroid work to reduce inflammation associated with an allergic response, radiation or foreign object. This type of prescription eye drop is intended for short-term use. If symptoms are not relieved in two days, the patient needs to be reevaluated by the physician. According to Drugs.com, bacterial, fungal and viral infections of the cornea are associated with prolonged use of eye drops containing steroids. Prolonged use suppresses the immune system's normal defensive response and increases the risk of eye infections.
Is This an Emergency?
If you are experiencing serious medical symptoms, seek emergency treatment immediately.