Jumping rope is a good aerobic exercise that can really get your heart pumping, and it can also help you burn calories and lose some of those unwanted pounds. However, while exercise is an important part of any weight-loss program, you can't out-exercise a bad diet. Consult your doctor before starting any exercise or diet program.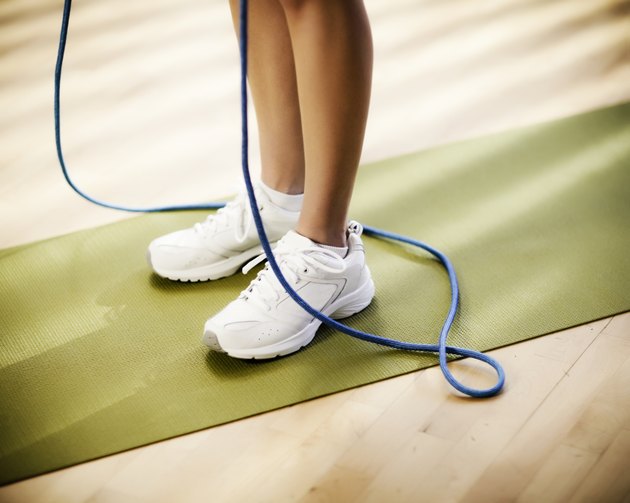 Calories Burned Jumping Rope
The only way to achieve weight loss is to create a calorie deficit by eating fewer calories, burning more, or, ideally, through a combination of both. To lose 1 pound to 2 pounds a week you need to create a weekly 3,500- to 7,000-calorie deficit, which means a 500- to 1,000-calorie daily deficit. To prevent loss of muscle mass, you should not aim to lose more than 2 pounds a week.
How much weight you can lose by jumping rope every day depends on your size. A 125-pound person burns 300 calories jumping rope for 30 minutes, so theoretically it would take about 12 days for this person to lose a pound, solely from rope-jumping, if no extra calories were added to the diet. Larger people burn more calories for the same amount of exercise. A 185-pound person burns 444 calories by jumping rope for half an hour, and could lose a pound in 8 days, or 3 to 4 pounds per month.
Jumping Rope and Weight Loss
While mathematically it seems you should lose weight by simply jumping rope, research says this may not always be true. One of the reasons jumping rope alone may not be the best way to drop the unwanted pounds is because of its affect on hunger. A 2012 review study published in Obesity Review found that if you're exercising to lose weight and not paying attention to your diet, you may eat more to compensate for the calories burned. Therefore, losing weight through exercise alone would only work if you didn't eat any extra calories.
Diet and Jumping Rope to Lose Weight
If you want to lose weight and keep it off, you need to jump rope and make changes to your diet too. A 2014 review study published in the Journal of the Academy of Nutrition and Dietetics found that the best combination for long-term weight loss is through regular exercise and a reduced-calorie diet. To lose 1 pound of fat a week, you can jump rope for 20 minutes to burn 200 or more calories, depending on your starting weight, and reduce your daily calorie intake by 300 calories.
In addition to reducing your calorie intake to lose weight while jumping rope, it's also important that you include mostly nutrient-rich foods from all the food groups -- fruits, vegetables, grains, lean proteins and dairy -- to ensure that your hard-working muscles get the energy needed to get the most out of your jump-rope workout. You should also eat regularly, including three meals and one snack a day, to sustain energy levels and help control hunger. And, because jumping rope is a strenuous aerobic activity, be sure to drink plenty of water for hydration.
Health Considerations for Jumping Rope Daily
Jumping rope is, without a doubt, a good cardiovascular workout. It's also an activity you can do anywhere that doesn't require a lot of equipment. However, it's important to have a well-rounded exercise routine so that you're not working out the same muscles all the time. Plus, the heavy impact can be hard on your knees and ankles. To get the most health benefits, a good exercise plan should include a variety of aerobic exercise, such as jogging or a step class, strength-training, such as push-ups and sit-ups, and stretching.
Also, jumping rope may not be a suitable form of exercise for everyone. The University of Maryland Medical Center warns that high-impact exercises such as jumping rope are not recommended for the elderly, people that are overweight or have a medical condition, an injury or arthritis. If you experience chest pain, difficulty breathing, extreme fatigue, nausea or become light-headed, you should stop jumping rope immediately. Instead, you might want to consider low-impact aerobic exercises, such as walking, swimming or stair-climbing, which are considered safe exercises for anyone in reasonable health, says UMMC.