End stage liver disease occurs when the liver has sustained severe damage, usually over the course of many years, and is in the process of failing completely. Alcohol abuse and infection with the hepatitis C virus are the two leading causes of liver cirrhosis, the severe scarring of liver tissue that leads to end stage liver disease. Unfortunately, when enough damage has occurred to the liver to induce end stage liver disease, the treatment options are limited.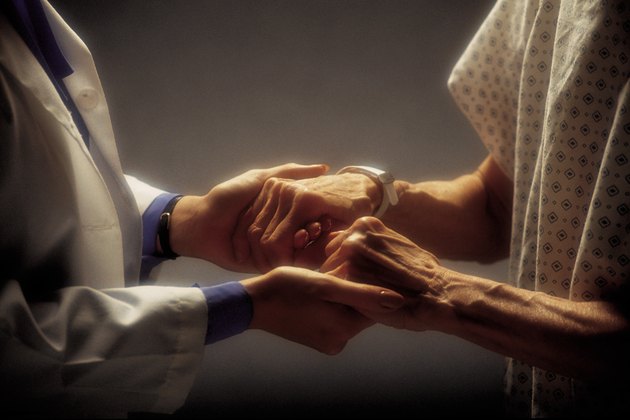 Liver Transplant
Severe scarring of liver tissue cannot be repaired. If the liver is severely damaged and completely failing, life expectancy is usually low unless a liver transplant is received. There are three types of liver transplants commonly employed. During an orthotopic transplant, the damaged liver is removed and replaced with a liver from a deceased donor. In contrast, during a heterotopic transplant, a liver from a deceased donor is transplanted into the body, but the damaged liver is not removed. A reduced-size liver transplant uses a small part of a liver from a living donor to replace the damaged liver, which is completely removed, explains the Liver Disease Archive.
Diet
A proper diet is essential to minimize damage to a diseased liver. Alcohol and illicit drugs are very damaging to the liver, so they must be avoided by people with end stage liver disease. Malnutrition also causes damage to the liver, and doctors sometimes prescribe liquid dietary supplements to ensure proper nutrition. Patients with severe end stage liver disease may be too weak to eat on their own, and may receive fluids through a nasogastric tube or intravenous needle.
Reduction of Fluids
Other complications often accompany end stage liver disease, and doctors usually try to manage these conditions either until a transplant can be performed or as palliative measures. Liver failure often causes fluids to accumulate in the abdomen or limbs, which can be treated by diuretic medications, such as furosemide or spironolactone, that cause the kidney to remove more water from the body and excrete it as urine. In some cases, fluid may need to be manually removed from the abdomen with a needle, a procedure known as paracentesis.
Treatment of Pruritus and Portal Hypertension
Pruritis, which is severe itching all over the body, may occur in cases of end stage liver disease, and may be treated with drugs to ease the itching, such as cholestyramine or antihistamines. Liver failure often causes increases in blood pressure in the veins that lead out of the liver, which is called portal hypertension. This condition is often treated with medications that reduce high blood pressure, such as beta-blockers, or by manual procedures that reduce the pressure, such as oesophageal variceal banding or portocaval shunting, explains the website WD.