Sparkling water hydrates you just as well as still water, but it offers a bubbly kick that tantalizes your tongue. A regular sparkling water habit is healthy for most people and can be used as a primary source of hydration. Not all sparkling water is the same, though; in some cases, it's preferable to choose regular water.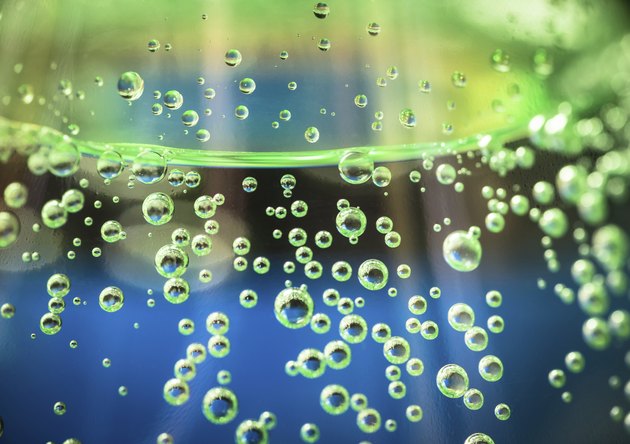 Why It Sparkles
Much of the water labeled as "sparkling" water gets its bubbles from the addition of carbon dioxide; otherwise, it's the same as regular water. Sparkling mineral water is naturally bubbly and contains minerals, including sodium. If you're watching your sodium intake, still water may be a better option because it doesn't contain any sodium. The upside to mineral water is that the naturally occurring sodium, which is an electrolyte you lose through sweat, can help hasten hydration if you've lost a lot of fluids through exercise.
Bones and Teeth
Soda has been pegged as possibly correlating with bone breakdown, but it's not because of the sparkle. Other ingredients in soda may leach calcium from the bones, but research is inconclusive. Sparkling water doesn't contain these ingredients, so it has the same effect on your bone density as regular water. Sparkling water is also slightly more acidic than still water, which might indicate a problem for your teeth; but plain versions don't negatively affect them, according to a study published in the Journal of Oral Rehabilitation in 2001. Flavored sparkling water, however, was shown to have potentially corrosive effects on the teeth, found a study published in the International Journal of Paediatric Dentistry in 2007.
Weighty Considerations
Sparkling water offers a no-calorie, no-sugar alternative to soda that will hydrate just as well as still water. Fruit-flavored sparkling water may sound healthier than soda, but some versions may have just as much sugar. When you want to avoid extra calories that can lead to weight gain, regular water is a better choice than flavored, sweetened sparkling water.
Digestive Issues
People with sensitive digestion may do better with still water. Some people report that drinking sparkling water causes bloating, burping, gas and stomach discomfort. If you find that sparkling water makes you feel ill, regular water is obviously a better choice.