Your body weight is the result of a variety of factors – genetics, your overall health, lifestyle, stress, dietary choices and eating patterns -- all influence the number you see on the scale. It makes sense that there's no single, magic bullet for successful weight loss. Setting consistent, healthy dietary patterns can go a long way toward reaching weight loss goals, however, and the beverages you drink are as much a part of that formula as the foods you eat. Ditching soda and opting for water -- carbonated or not -- is a step in the right direction.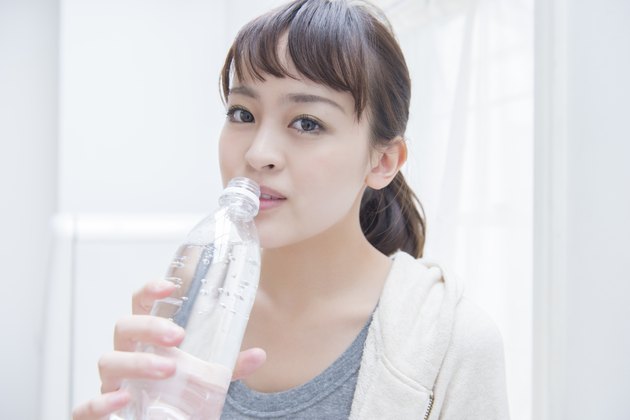 Carbonated Water Is Filling
Carbonated water, also known as sparkling water, is made by adding carbon dioxide to water under pressure. Carbon dioxide, a weak carbonic acid, is responsible for the drink's trademark fizz. These fizzy bubbles offer more than refreshment, however – they take up space in your stomach. A 2012 study published in the Journal of Nutritional Science and Vitaminology found that drinking carbonated water on an empty stomach is significantly more filling than drinking plain water. The study's authors suggest this may be because carbonated water increases gastric activity as well as heart rate -- both of which can contribute to feelings of fullness. Although its ability to satiate is relatively short-term, the benefits are clear – drinking carbonated water may fill you up enough to help you avoid unplanned snacking.
Plain Water Is Filling, Too
Although science has revealed that carbonated water is more filling than regular, or still, water when consumed on an empty stomach, plain water is just as useful at promoting weight loss. A randomized controlled trial published in 2015 in the journal Obesity found that drinking water before eating – specifically, drinking 2 cups of water about 30 minutes before a meal – can reduce the number of calories you'll consume in that meal, by an average of 40 calories per meal, or 200 calories a day. Drinking water after you eat may also benefit your weight loss efforts. A study published in the American Journal of Clinical Nutrition in 2015 found that opting for water over diet beverages after mealtime is more likely to lead to greater weight loss.
Gas Bubbles: Benefit or Bother?
All things being equal, carbonated water is arguably most helpful for those who are trying to lose weight, in part, by giving up soft drinks. Such high-calorie, sugary beverages appeal to consumers for a variety of reasons, including their satisfying fizz. Drinking carbonated water lets reformed soda drinkers experience the same refreshing bubbles, without the calories or added sugars, which may ultimately make it easier to defeat soda cravings. For those who were never in the habit of drinking soda or any other carbonated beverage, however, plain water is probably a better dietary choice. Drinking carbonated water – particularly when you're not used to the effects of carbonation – can leave you feeling bloated and gassy, rather than satisfied or full.
Long-Term Sustainability for Weight Loss
The Harvard T.H. Chan School of Public Health calls water the best beverage you can drink, coming in ahead of other healthy choices like unsweetened coffee and tea. There's no doubt that drinking water – whether carbonated or plain – promotes weight loss, but making the most of this healthy habit means it has to be sustainable for you. If you don't like plain water, use carbonated water to establish your new dietary routine. You can add citrus slices, mint sprigs or a splash of fruit juice to help you transition from other beverages. Once water becomes your beverage of choice, try switching out the carbonated variety for filtered tap water. Knowing that plain water is inexpensive and convenient can help you make drinking it into a lifelong habit for good health.