The Couch to 5K program -- designed by Cool Running to ease beginners into a running program -- can be completed indoors or outdoors. For some, running outside isn't possible for reasons related to safety or weather. If this is the case for you, you can head over to the gym or use your home treadmill to work up to running a 5K, which is about 3 miles. There are some differences between running on pavement and on a treadmill, however, and you will need to make some adjustments.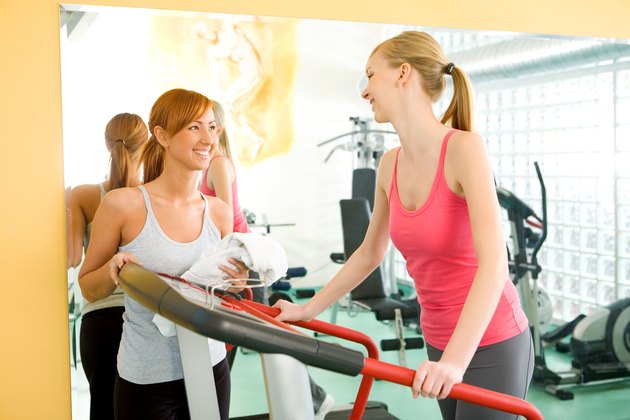 Starting the Program
Step 1
Choose to run for time or distance as you work through the program. It's up to you. The key is to take your time and ease in so that you don't burn yourself out and quit. If you plan to use the distance method, simply replace every 90 seconds of time with 200 yards of distance.
Step 2
Start with some stretching and a five-minute warm-up walk.
Step 3
Alternate 60-second runs with 90-second walks for 20 minutes.
Step 4
End the session with a five-minute cooldown walk.
Step 5
Repeat this session three times during your first week.
More Walking Than Running
Step 1
Increase your time intervals during the second week. Alternately walk for 90 seconds and run for two minutes. Again, you'll want to commit to three days of running per week through the nine-week program.
Step 2
Alternate equal 90-second intervals of walking and running for your first set and then equal two-minute intervals of each for the second set during week three.
Step 3
Repeat the first 90-second set and finish off with three-minute intervals of alternate running and walking.
More Running Than Walking
Step 1
Run for three minutes and then walk for 90 seconds. Run for five minutes and then walk for two and a half minutes and then repeat these two sets of intervals during the fourth week.
Step 2
Alternate running for five minutes and walking for three minutes for two sets during week five.
Step 3
Start with a five-minute run and three-minute walk, but increase your running time to eight minutes for the second set during week six. After a three-minute walk, finish up with a five-minute run and a five-minute walking cooldown.
Step 4
Start running for about 28 minutes between your warm-up and cooldown walks during the eighth week.
Step 5
Run for the full 30 minutes in week nine.
Getting Close to the Outdoors
Step 1
Set your treadmill to a 1-percent incline to make up for lost air resistance. Studies have found that running on a treadmill is easier on the knees than running on pavement but may also use less energy. Runners tend to run slower on a treadmill than they do outside. Additionally, they're not pushing against the wind or balancing on uneven surfaces.
Step 2
Program into the treadmill a route that changes the incline throughout your session, if possible. This can give you more of an outdoor feel and engage more muscles.
Step 3
Program the C25K program intervals if your treadmill allows you to so that you can ditch the stopwatch.
Things You'll Need
Treadmill

Running shoes

Clock or pedometer
Tip
Don't worry about speed when you begin. You will build speed as you progress and exceed the program.
Warning
Always consult your physician before beginning an exercise program.