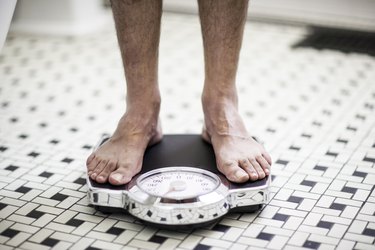 Let's be honest: No one absolutely loves stepping on the scale. But if you're trying to lose weight or gain muscle, a basic body-weight scale can be a good tool to help you track your progress (though it shouldn't be the only variable you consider).
Scales are becoming more and more high tech, but finding the most accurate scale for your personal needs is the top priority. Once you've established your health and fitness goals, you can find the scale that's best suited for you.
Accurate Body-Weight Scales:
What to Know About Scale Accuracy
Although your weight certainly isn't the only number you need to consider when measuring your health, it can give you a good starting point for tracking your health, Eudene Harry, MD, tells LIVESTRONG.com.
Just as TVs, cell phones and even laundry machines have gotten more technologically advanced over the years, body-weight scales are no exception. Today, you can even find at-home scales that measure body fat percentage, muscle mass or water weight using bioelectrical impedance analysis, Dr. Harry says, although most of these aren't too accurate.
"In terms of accuracy, impedance scales may have a tendency to underestimate body fat percent and overestimate fat-free body mass or calculated muscle mass," Dr. Harry says. "If you use these types of body-weight scales, focus on the trends and not the absolute number."
Use a Body Fat Calculator
You'll also want to avoid weighing yourself daily, Dr. Harry says. Your weight can go up and down throughout the day or week due to simple things like water retention or a late meal. As a result, it may seem like your body fat has increased or decreased when it really hasn't.
"Don't analyze your body fat every day," she says. "You might be so distressed about a number that it discourages you instead of motivating you."
Instead, choose one day and time each week to weigh your body. The best time to do this is probably in the morning, after emptying your bladder and before breakfast, Dr. Harry says. Stay consistent and focus on the general direction the numbers are moving rather than the actual numbers themselves.
How to Find the Right Scale for Your Goals
There's no tried-and-true way to find out if a scale is 100-percent accurate. In fact, chances are there's no scale on the market that can reflect a totally accurate measurement. Instead, pick the most accurate scale for your purposes, Leann Poston, MD, a physician with Invigor Medical, tells LIVESTRONG.com.
First, consider whether you prefer a digital or analog readout, Dr. Poston says. Then, consider why you want a scale. If you're tracking your weight, a basic scale is adequate. But if you want to track your body fat percentage, and are more motivated by all the data that scales with bioelectrical impedance can offer, then go that route.
Bottom line: Finding the most accurate body-weight scale for you depends on your personal goals and priorities.
Consider which measurements you need, and then try one of these products:
1. Best Overall: Etekcity Digital Body Weight Bathroom Scale
This digital bathroom scale has more than 24,000 five-star reviews on Amazon and is the best go-to simple scale. Etekcity's ultra-slim scale is built with sturdy tempered glass and can measure up to 400 pounds. The bottom of the scale has a skid-free design, too, so no need to worry about scratching your hardwood or tile.
This scale turns on and off automatically and it calibrates as soon as you step on the glass.
Plus, this product also comes with a tape measure, which you can also use to track your progress.
2. Best Analog Readout: Thinner Analog Precision Bathroom Scale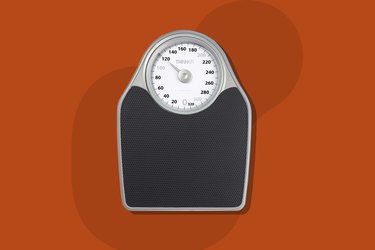 If you prefer an analog readout, the Thinner Analog Precision Bathroom Scale is the way to go. The numbers on this scale are large and readable, with an easy-to-see rotating dial.
This affordable scale goes up to 330 pounds and has received more than 700 five-star reviews on Amazon.
3. Best for Data Gathering: RENPHO Bluetooth Body Fat Scale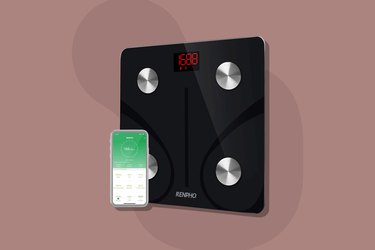 In addition to your weight, RENPHO's scale tracks 13 different body composition measures, including body fat, muscle mass, BMI and bone mass. This scale is bluetooth compatible and works with the RENPHO app, which can help you view and store your measurements.
The free app also connects to other health apps, like Apple Health and FitBit, to give you a more holistic picture of your overall health and activity.
4. Best for Tracking Progress: FITINDEX Bluetooth Body Fat Scale
FITINDEX's scale is bluetooth compatible and measures a range of variables, including weight, body fat percent and BMI. This scale even helps you categorize fat mass, displaying how much of your total body fat is visceral (deep belly fat) or subcutaneous (surface-level fat).
This scale also connects to the FITINDEX app, which allows you to track your progress over time, enabling multiple profiles for the whole family. The app even allows you to track and export your health data in a CSV file for easier tracking.