Eye redness may appear in a certain area of the eye, such as the corner of the eye, or throughout the white of the eye. Though a patch of redness may indicate a localized affect of a condition, the same condition may cause widespread redness on the eye. If redness does not improve and accompanies other symptoms such as irritation or changes in vision, a person should contact an eye doctor to determine the disorder causing the symptoms.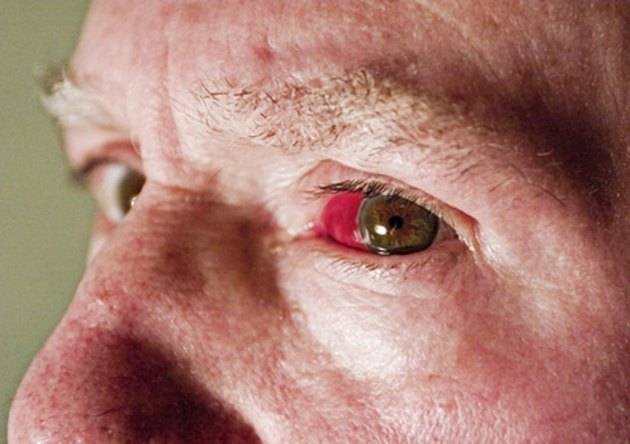 Allergies
Many people have allergic responses to pollens or other seasonal triggers, and some people struggle with allergic reactions to pets. These reactions may cause sinus reactions, such as sneezing or congestion, but the eyes may react as well, says The University of Michigan Kellogg Eye Center. Redness often appears, typically across the entire white of the eye. Itching and surface discomfort may occur as well. Over-the-counter allergy eye drops often helps relieve eye redness and other symptoms, though, some people may require a prescription allergy eye drop. Oral allergy medications may help relieve redness and irritation, as well as prevent recurring symptoms.
Conjunctivitis
Eye infections, such as conjunctivitis, often cause redness in the eyes. In most cases, significant inflammation causes redness through the entire white of the eye, the reason many people refer to conjunctivitis as "pink eye." Other symptoms may include itching, discomfort and discharge, says MayoClinic.com. For most people, the symptoms will gradually improve over a matter of days. However, some people may need to use prescription eye drops to aid in resolving the infection. A person should contact an eye doctor if symptoms worsen instead of improve, or if vision and comfort decreases.
Subconjunctival Hemorrhage
A broken blood vessel on the white of the eye will cause localized redness, which may occur in the corner of the eye or any location on the white of the eye. The broken blood vessel, called a subconjunctival hemorrhage, does not typically cause pain, irritation or changes in vision, says MedlinePlus. The hemorrhage often occurs after sneezing or coughing, though some people cannot relate a cause to the appearance of the broken blood vessel. The hemorrhage, which acts like any bruise on the skin, will heal over time and should not worsen. However, if the red spot on the eye appears to bulge out or bleeds into the colored part of the eye, a person should seek medical attention.