The American Hair Loss Association reports that 95 percent of men experience traditional male pattern baldness. Male pattern baldness, or androgenic alopecia, is caused by the male sex hormone dihydrotestosterone or DHT. This hormone attaches to hair follicles genetic prone to hormonal shrinkage and progressively thins them over time. Current treatment for male pattern baldness begins with lowering DHT levels and stimulating existing follicles to anagen or growth phases instead of letting them stay in the telogen or resting phase. Saw palmetto can inhibit DHT and minoxidil can accelerate the hair cycle.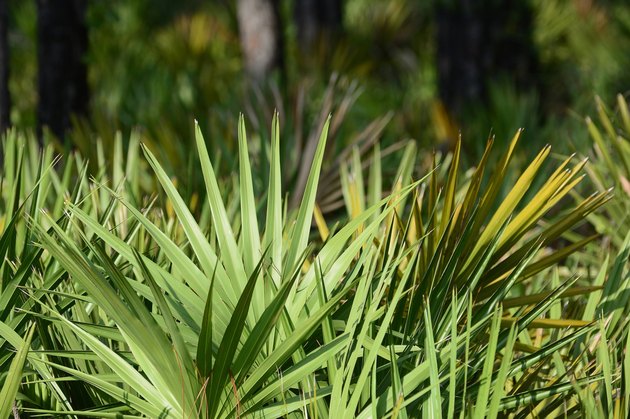 The two FDA approved and recommended treatments for male hair loss are propecia and minoxidil. Propecia is available by prescription only and runs between $70 and $90 a month. Most insurance companies will not cover propecia because they consider it strictly cosmetic. Some people opt to treat hair loss with minoxidil and saw palmetto as an effective and less expensive option.
Step 1
Make a doctor's appointment. It is very important that you determine that the cause of your hair loss is from DHT attacking genetically predisposed hair follicles and not some other condition.
Step 2
Purchase minoxidil and saw palmetto. Most grocery stores and drugs stores carry both. Minoxidil will be in the hair care section; saw palmetto is generally found in the dietary supplement aisle.
To assess tolerance, HairSite recommends purchasing the 2 percent or 5 percent strength minoxidil before moving up to the 12 or 15 percent version.
Step 3
Use the minoxidil as directed. Use minoxidil one or two times daily in the quantity of 1 milliliter to thinning areas. If you plan on taking a taking a shower, apply the minoxidil after drying your hair.
Step 4
Use the saw palmetto as directed. The Nutritional Supplements Health Guide states the dosage to be 200 milligrams, two times a day.
Regrowhair.com reports that a study in the 2002 Journal of Alternative and Complementary Medicine found that men who took saw palmetto increased their hair growth by 60 percent over men who did not.
Tip
Use minoxidil everyday and do not stop. Use saw palmetto everyday. Have patience, it may take several months to see results.
Warning
The risks of side effects are very low with minoxidil and saw palmetto. Minoxidil may cause itching, burning and flakiness. If you experience weight gain, trouble breathing, chest pain, rapid heartbeat or swelling you need to contact your doctor immediately. Saw palmetto may cause stomach upset and headaches. It can interfere with iron absorption as well as blood thinners and hormone-based medications.