Night sweats, known medically as nocturnal hyperhidrosis, is a condition in which an individual has perspiration during the night hours.The sweating may be profuse, leaving sheets and clothing wet. It may occur in someone who does not excessively sweat during the day. Night sweats may be accompanied by fever or feeling hot or cold. There are many reasons for a woman to have night sweats; sufferers should consult a physician for evaluation and treatment. Diagnosis is often made by considering the symptoms that accompany the night sweats.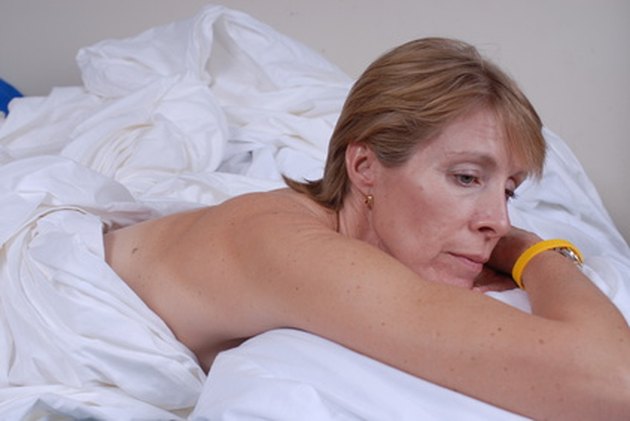 Menopause
Menopause is a consideration when a woman is in her late thirties, forties or fifties. Plunging hormone levels often cause night sweats and hot flashes. Birth control pills, which contain varying levels of female hormones, are responsible for some cases of night sweating.
HIV
Human immunodeficiency virus, or HIV, can cause night sweats in women, explains the text, "Medical-Surgical Nursing." HIV causes acquired immunodeficiency syndrome, or AIDS, a condition marked by fatigue, weight loss and increased susceptibility to infection in addition to night sweats. Infections found in HIV and AIDS patients can also cause fever and sweating at night.
Hyperthyroidism
Women with an overactive thyroid gland, a condition known as hyperthyroidism, often suffer heat intolerance, causing them to sweat at night. This symptom is often accompanied by insomnia, restlessness and an elevated heart rate.
Lymphoma
Night sweats may occur in women with Hodgkin's lymphoma and non-Hodgkin's lymphoma. Accompanying symptoms include a swollen lymph node and body aches. Leukemia and other cancers sometimes cause nocturnal hyperhidrosis and, occasionally, chemotherapy treatment is responsible.
Diabetes Mellitus
Diabetes mellitus may cause night sweats, according to an article in "American Family Physician," titled Diagnosing Night Sweats. This occurs when blood glucose levels fall during the night due to blood sugar instability, a skipped evening snack, or the use of diabetes medication, such as insulin.
Kidney Infection
A kidney infection may be responsible for a woman's night sweats, notes MedlinePlus, a website maintained by the National Institutes of Health. A fever, side pain and vomiting may also be present.
Antidepressant Medication
Women taking antidepressant medication may experience sweating at night. It may come on suddenly and possibly be accompanied by nausea or insomnia. Several types of antidepressants have nocturnal hyperhidrosis as an adverse effect.