Although many infomercials, advertisements and exercise gadgets promise to slim down your problem areas, spot reduction is impossible. To lose your jiggly butt and flabby belly, you must lose fat from your entire body through diet and exercise. Once your body fat reduces, so will the excess fat in your problem areas. This can improve your appearance and is also beneficial to your healthy, since excess fat increases your risk of conditions, such as certain cancers, diabetes and heart disease.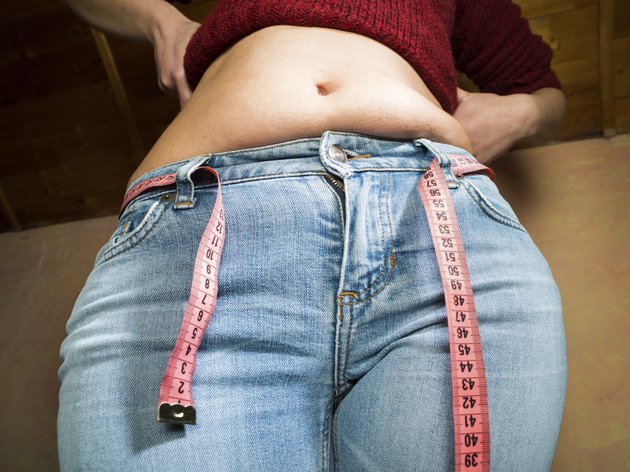 Step 1
Follow a healthy, reduced-calorie eating plan to help reduce your weight. The National Heart, Lung, and Blood Institute (NHLBI) recommends eating smaller portions and limiting foods that are high in sugar, sodium, cholesterol, and trans and saturated fats, which are found in high-fat dairy, fatty meats and fried foods. They suggest emphasizing whole grains, lean protein, fat-free or non-fat dairy, and a variety of fruits and vegetables.
Step 2
Ride a bike, go jogging or walk briskly for 150 to 300 minutes each week to burn calories. Exercise at an intensity that increases your breathing but still allows you to talk. Find cardio activities that you enjoy and add variety to your routine to prevent boredom. Consider going swimming, taking an aerobics class, participating in group sports or mowing the lawn.
Step 3
Perform strength training on two days of the week to increase muscle tissue. For optimal results, avoid solely focusing on your buttocks and abs; also work your legs, arms, back, chest and shoulders. The more muscle tissue you have, the more calories you burn, because muscle burns more calories than fat, even when you're at rest. Perform up to three sets and 12 repetitions of each exercise, using weight that's challenging so you can't do another repetition at the end of each set.
Step 4
Make butt and ab exercises part of your strength-training routine. These exercises strengthen your muscles so that when your body fat reduces, you'll have a tone, fit and firm physique. Studies sponsored by the American Council on Exercise showed that exercises, such as quadruped and four-way hip extensions, lunges, and step-ups most effectively work your buttocks, and that bicycle crunches, crunches on an exercise ball, knee raises in a captain's chair, and reverse crunches, most effectively work your abdominal muscles.
Step 5
Get eight hours of sleep every night to prevent weight gain. According to Harvard School of Public Health, lack of sleep affects appetite-controlling hormones, resulting in increased cravings for unhealthy, diet-sabotaging foods. Additionally, growth hormone, which is beneficial to metabolism, is released by the body during sleep. Less sleep leaves you with more time to eat and less energy to exercise.
Step 6
Lose no more than 1 to 2 pounds per week, which according to the NHLBI is safe and easy to incorporate into your lifestyle. Understand that to achieve this, you must create a deficit of 500 to 1,000 calories every day through diet and exercise.
Warning
Visit your doctor before making lifestyle adjustments that include a new diet and exercise routine, especially if you've been inactive or if you have an injury or health condition.