If you cruise the aisles of your local health food store, you'll likely find noni supplements lining the shelves. Noni is commonly used for conditions such as diabetes and as a general health tonic. Manufacturers make a wide variety of claims, many of which lack clinical support. But research does indicate possible benefits, particularly for blood sugar and cholesterol management. Noni has the potential to cause side effects and may interact with certain medications, so talk to your doctor before taking noni supplements.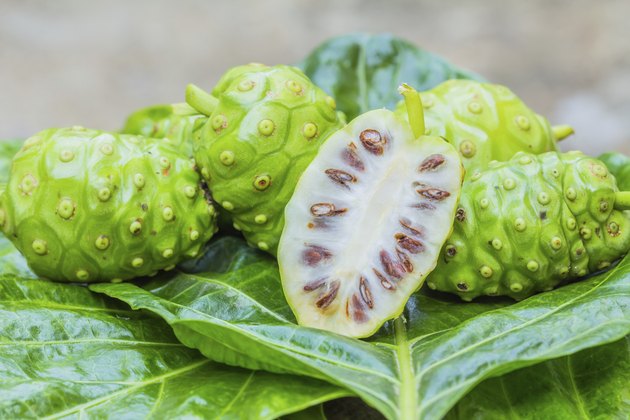 A Tale of an Exotic Fruit
Noni is a tropical plant native to Polynesia. Its fruit is used to make juice and other preparations, such as capsules, tablets and teas. The U.S. Food and Drug Administration has sent warnings to several manufacturers for making unsupported health claims, according to the National Center for Complementary and Alternative Medicine. Noni does appear to have antioxidant, immune-boosting and tumor-fighting properties, according to the center. The majority of clinical evidence showing the health benefits of noni come from animal studies, however.
Lowers Cholesterol
Having an abnormal level of lipids in your blood is a strong risk factor for cardiovascular disease. Because smoking cigarettes can lead to high cholesterol from oxidative stress, researchers conducted a study to examine the effects of noni. The study involved 132 participants described as heavy smokers. Participants drank noni juice or a placebo for a month. The results showed that drinking 29 to 188 milliliters of noni juice significantly reduced total cholesterol and increased levels of high-density lipoprotein -- a good form of cholesterol. Noni also reduced low-density lipoprotein -- a bad form of cholesterol. The results were published in the 2012 edition of "The Scientific World Journal."
Lowers Blood Sugar
Animal studies have yielded promising results in the area of blood glucose control. Researchers at the University of the West Indies conducted one such study and found that noni possesses blood sugar-lowering properties. The study involved giving noni or diabetic drugs to diabetic rats for 20 days to study the effects on blood sugar. The study found that noni was similarly effective as diabetic drugs at lowering blood sugar. The results were published in the October 2010 issue of the journal "Evidence-Based Complementary and Alternative Medicine."
Precautions
Avoid noni if you have kidney problems or are following a restricted-potassium diet, recommends the National Center for Complementary and Alternative Medicine. Noni is rich in potassium and may cause problems. In addition, case reports showing adverse liver effects from using noni exist, according to the center. It's best to avoid noni if you have liver problems or are taking medication that alters liver function. Noni may interact negatively with certain medicines such as chemotherapy drugs and the blood thinner coumadin. Talk to your doctor before taking noni if you are taking prescribed medication. Noni appears to lower blood sugar, which may increase the effectiveness of diabetic drugs, leading to hypoglycemia.