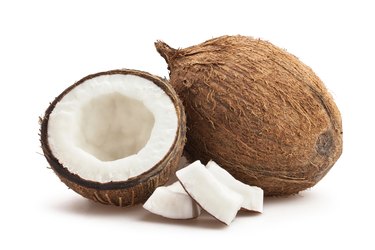 Coconut oil can be used in the kitchen and in the medicine cabinet. Regardless of how you want to use coconut oil, you can make it at home with only a few household items and a fresh coconut. In addition to saving money by making your coconut oil at home, you will have the peace of mind of knowing that there are no added colors, flavors or preservatives in your coconut oil.
Step 1
Shave off as much of the outer shell of the coconut as you can. Do this by using the knife to scrape off the outer shell. Always point the blade of the knife away from you.
Step 2
Cut the coconut in half with a knife. Drain the coconut milk into a jar.
Step 3
Scoop out the meat of the coconut with a chisel and place the meat into a bowl.
Step 4
Measure the amount of coconut meat you have. Add 50 percent more water to the bowl than you have coconut meat. For example, if you have two cups of coconut meat, add three cups of water.
Step 5
Pour the contents of the bowl into the blender. Place the lid on the blender and plug it in. Turn the blender on to its "chop" setting for one minute then switch the setting to "blend" for two to three minutes, or until the coconut has a smooth, creamy consistency. According to, "Coconut Cures: Preventing and Treating Common Health Problems with Coconut," it is essential that this consistency be reached to make the coconut oil.
Step 6
Place three layers of cheesecloth, one on top of the other, over the bowl. Pour the coconut from the blender onto the cheesecloth.
Step 7
Gather the cheesecloth around the coconut and wring out all of the milk. Discard the cheesecloth and coconut flakes that remain in the cheesecloth.
Step 8
Pour the coconut milk into the jar. Screw the lid tightly on the jar and allow the coconut milk to ferment. According to "Natural Health Remedies," this can be done by placing the jar in a dark place for two days.
Step 9
Move the coconut milk into warm, light area for six to eight hours. According to, "Organic Marin: Recipes from Land to Table," during this time the coconut oil will separate from the coconut milk.
Step 10
Chill the jar in the refrigerator for three hours to allow the oil to solidify.
Step 11
Scoop out the oil with a spoon and place it in a container with a lid. Allow the oil to thaw in a room temperature environment and then use the oil as you choose.
Things You'll Need
Coconut

Blender

Jar with lid

Container with lid

Spoon

Knife

Chisel

3 layers of cheesecloth

Bowl