Detox diets attempt to detoxify the body by eliminating foods that cause toxic buildup and other contaminants through modified fasting, explains Northwestern Health Sciences University. Some detox diets recommend only juice and water, while others allow whole foods that are easy to digest. Northwestern Health Sciences University recommends following a detox that does not put your body into starvation mode and meets your basic nutritional needs. When following a detox diet, you avoid all processed and refined foods, alcohol, caffeine, sugar, chemically enhanced foods, artificial flavors and sweeteners and trans fats.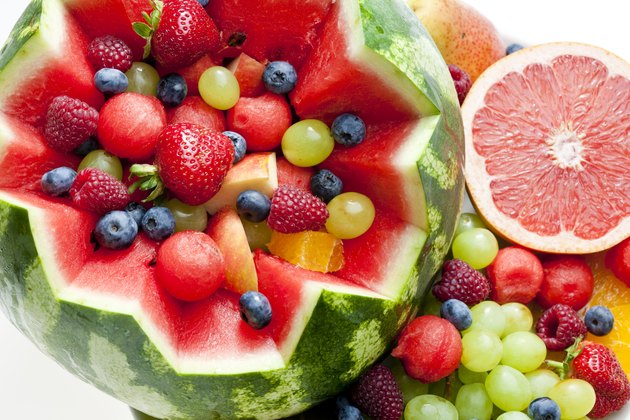 Fresh Fruit
Eating fresh fruit provides your body with vital nutrients to function properly, give you energy, aid in digestion and may help prevent many chronic diseases, according to Health.gov. Most fruits are high in fiber and low in calories, are easy to prepare and eat and are filling. To ensure you are getting plenty of vitamins while on a detox diet, eat a wide variety of fresh fruit.
Raw Vegetables
Fresh raw veggies help curb hunger, are low in calories and high in vitamins and minerals. Most vegetables break down easily in the digestive system and can help satisfy your craving for salty and crunchy snacks. Vegetables that are in their natural state have a higher energy density than when cooked or juiced, which will fill you up with less calories. Choose a variety of colors to ensure you are getting a wide variety of vitamins from your veggies while on a detox diet.
Whole Grains
Whole grains such as steel-cut oatmeal, quinoa and brown and wild rice are complex carbohydrates, which will provide your body with energy without taxing your digestive system. When eating whole grains on a detox diet, keep your portion size small and eat your grains early in the day, notes Yoga Journal Magazine. Always eat whole grains free from salt or sauces.
Flaxseed
Flax seed and flax seed oil are high in alpha-linolenic acid, an essential fatty acid that is good for your heart and healthy brain function, according to MayoClinic.com Flaxseed and oil are also high in fiber and nutrient rich, to help you feel full while on your detox diet. Try adding flax seeds or oil to your veggie salad or brown rice.