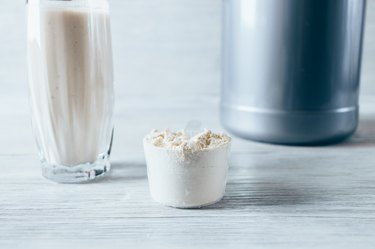 If you're working out to lose weight, you're well on your way to a slimmer body. But what you eat before or after your workout to lose weight is important too. What you eat before affects performance, and what you eat afterward is necessary to build calorie-burning muscle and replenish stored carbs. Consult your doctor before starting an exercise program or making changes to your diet.
Tip
Eat at least three hours before a workout to ensure the digestive process is well on its way. Or if that's simply not possible due to your schedule, have an easily-digestible carb with a little protein mixed in.
Workout Calories for Losing Weight
When you work out, your body burns extra calories, which is what you want when you're trying to lose weight. A 154-pound person burns 280 calories an hour walking at a pace of 3.5 miles per hour, and 590 calories jogging for an hour at a pace of 5 mph. A pound of fat contains 3,500 calories, so a 154-pound person would have to walk 12.5 hours or jog six hours to lose that 1 pound.
However, according to an article published in Obesity Review in 2013, some people who exercise don't lose as much weight as expected from their workouts because they may not be burning as many calories as predicted and they may eat more calories. If you're working out to lose weight, you need to consider the total number of calories you consume in an entire day, in addition to the number of calories you burn. The National Heart, Lung and Blood Institute says most active men and women can safely lose weight consuming 1,500 calories to 1,800 calories a day.
Preworkout Meal for Weight Loss
The goal of your before-workout meal is to provide your body with the energy it needs so you perform at your best, but without any stomach upset. If you're not properly fueled, you may tire quickly, which may affect the intensity and length of your workout. It may also leave you famished after you finished exercising, which may lead to a post-workout binge. Also, because blood flows to your muscles during your workout, eating a big meal too close to exercising may lead to poor digestion and cramping.
What you should eat before depends on when you work out. Ideally, you should eat a healthy "mixed" meal, which means a meal with carbs, protein and fat, about three hours before your workout so your muscles have the energy necessary to push through. Good options include a turkey and cheese sandwich on whole-wheat bread with an apple and a nonfat yogurt, whole-wheat pasta with turkey meatballs and a salad, or baked potato stuffed with broccoli, low-fat cheese and pinto beans with an orange.
However, if you work out in the morning, you may not have the three hours necessary to fully digest a meal, in which case you may be better off eating an easy-to-digest carb with a little protein about 30 minutes before your workout — a hard-boiled egg and crackers, a toasted bagel with a slice of low-fat cheese or nonfat Greek yogurt with sliced peaches. Foods high in fat and fiber are difficult to digest and should be avoided right before your workout.
After-Workout Eating
Your post-workout meal may be one of the most important meals of the day. That 30 minutes after you've finished working out is prime time for muscle building and energy replenishment. The more muscle you have, the more calories your body burns, even at rest, which may help your weight-loss efforts.
The food after your workout to lose weight should include carbs and protein to help build muscle and replace glycogen stores. A glass of low-fat chocolate milk, a container of low-fat Greek yogurt or string cheese, and an apple make good post-workout snacks for losing weight.
Don't Forget to Drink
What you drink before and after you work out is as important as what you eat. Like food, hydration can affect your workouts. When you're trying to lose weight, water — as a calorie-free drink — makes the best choice. You should drink up to 20 ounces of water three to four hours before your workout, and another 8 ounces 30 minutes before according to Family Doctor. After you're done working out, rehydrate with another 8-ounce glass of water.
Beware of Workout Foods
From sports drinks to protein bars, there are a plethora of nutrition products touted to help make your workouts easier and promote recovery. However, these products are not low in calories. With 160 calories in a 24-ounce sports drink and 220 calories in a protein bar, they can add up if you're not careful. It's OK to eat these foods — however, like everything you include in your weight-loss diet, be sure to count the calories, even from foods marketed to help improve your workout.