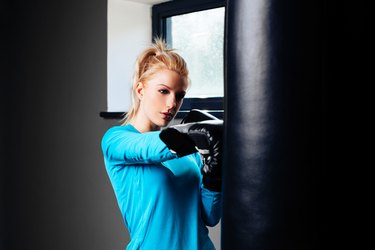 For those who are serious about getting or staying in shape, having equipment at home -- including weights and punching bags -- is the way to keep up a certain level of fitness. Punching bags are one thing, but installing a heavy bag in your home is a more serious matter. In your basement, you should use the overhead floor joists to ensure you're securing your bag to the sturdiest architecture possible. If your basement is finished, this may involve removing sheet rock.
Step 1
Measure the distance between two of the joists in the ceiling of your basement. Choose joists that are free of any cracks, decay or other damage.
Step 2
Purchase a heavy bag mount that is designed to connect to two ceiling joists. The mounts are typically C-shaped or V-shaped. The two ends of the "C" or "V" should measure the distance between the two ceiling joists.
Step 3
Slide the mount between the two joists, so that the bolt holes on the mount touch the vertical sides of the joists. Make sure the hook on the joist points downward; that's where the heavy bag will hang. Also ensure that the mount is level by using your tape measure to measure the distance from the end of the joist to the edge of the mount. The mount should be equally distant from the edge of the joist on both sides.
Step 4
Pre-drill holes through the bolt holes of the mount using a drill and drill bit and then turn bolts into the holes, securing the mount and bolts to the joists. Secure the bolts as tight as possible.
Step 5
Hang your heavy bag from the mount's hook.
Things You'll Need
Tape measure

Drill

Drill bits

Heavy bag spring

Stud finder
Tip
If you want to reduce the amount of vibration on your joists, you can also hang a heavy bag spring from the hook and then hang the heavy bag from the spring.
If the ceiling is covered with sheet rock, you'll need to first slide a stud finder over the ceiling to locate the wooden ceiling joists in your basement. The finder will beep when you've located a joist. Once you've located two joists, you'll need to cut the sheet rock between the two joists in order to install the mount. The hole will only need to be the width and length of the mount.