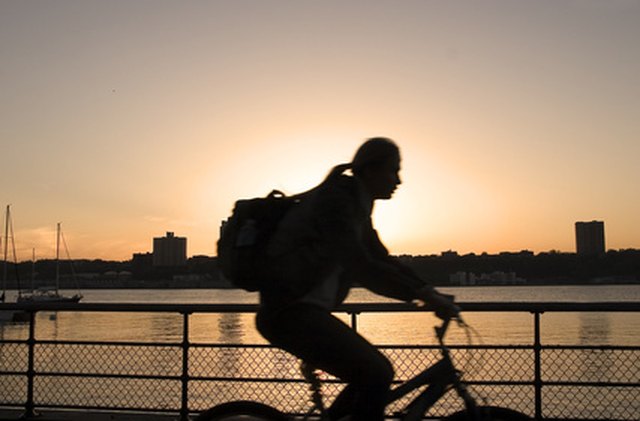 Many women strive for sexy, toned calf muscles. While some find it difficult for their calf muscles to grow and become toned, others complain their calf muscles are too large, and they search for ways to reduce the muscle bulk. Large calves may be a result of genetics, poor nutrition or a lack of exercise. By taking correct steps, you can reduce the size of bulky calf muscles without losing the toned appearance.
Step 1
Change lifestyle habits to reduce the size of calf muscles. Avoid walking in high heels, on uneven surfaces or in unsupported shoes. All of which contribute to large calf muscles. Do not stand for long periods of time which can reduce blood circulation to your calf muscles. Reduced blood circulation may cause toxins to build up in your lower leg muscles.
Step 2
Perform cardio exercises. Although it is a common misconception that any full body exercise will work the calf muscles and therefore strengthen them, this is incorrect. Cardio exercises will shape your legs, burn overall fat, improve flexibility and tone calf muscles. Cardio exercises will not create bulky calf muscles. After exercising, be sure to stretch calf muscles for at least five minutes.
Step 3
Stretch calf muscles frequently and after exercising. To stretch your calves, stand about a foot away from a wall or step. You should be facing the wall. Lift one leg and place it next to the wall so your toes are about 5 to 8 inches up the wall with your upper sole flat against the wall. Your heel should still be on the ground. Lean forward until you feel a pull in the back of your leg. Hold position for one minute before switching legs.
Step 4
Massage your calf muscles after exercising or stretching.
Step 5
Use low weights and high repetitions for any type of calf exercise. An excellent calf exercise is standing calf raises. Stand with one forefoot on a step while the other leg is hanging off the step. Lower the heel of the foot on the step a few inches. Push your heel back up as far as possible. Feel a tight squeeze in your calf muscle. Repeat this motion 15 to 20 times before switching legs. This will tone your calves without adding bulk.