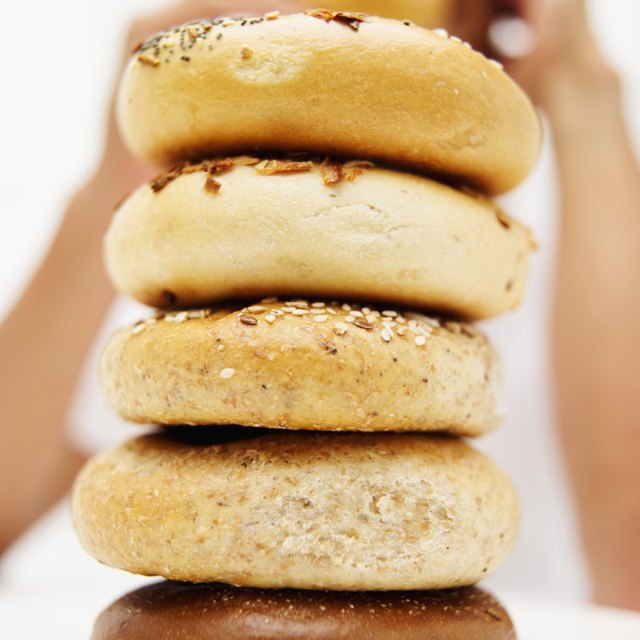 Some people may think bagels have no place in a weight-loss diet. It is true that carbohydrates can add up to a lot of calories when you eat too many of them, but if you limit your carb intake and eat low-calorie foods along with carbs such as bagels, you should be able to lose weight. According to the "Dietary Guidelines for Americans 2005," published by the Department of Health and Human Services and the Department of Agriculture, a healthy diet contains carbs.
Step 1
Eat half of a small plain bagel for breakfast, or for a healthier choice, eat half of an oat bran bagel. According to MyPyramid.gov, oat bran is a fiber food that may help lower your chance of developing heart disease. Half of a small oat bran bagel only contains about 73 calories. If a plain bagel is your preference, eat half of the plain bagel, which contains an additional 22 calories. Toast the half bagel and spread a tablespoon of no-sugar-added strawberry jam on it, or choose another fruit jam if you do not like the taste of strawberry jam. No-sugar-added strawberry jam contains about 10 calories per tablespoon, so if you have it on half of a plain bagel, your total calorie intake for this breakfast food is 105 calories. Half an oat bran bagel with strawberry jam on it is even lower in calories, totaling 83 calories.
Step 2
Top half of a small bagel with your favorite low-fat cheese for lunch or dinner. Choose a slice of low-fat Swiss cheese, or put an ounce of part skim mozzarella on the bagel. If you like your cheese sharp, choose a slice of provolone. Make your bagel more interesting by spreading some red roasted peppers over the cheese, or choose a mix of red and yellow peppers. Before adding the peppers to your bagel, rinse the peppers with water and blot them dry with a clean paper towel if you want to remove some of the salt and any oil. One ounce of low-fat Swiss cheese contains 50 calories, one ounce of part-skim mozzarella has 71 calories and an ounce of provolone contains 98 calories. One-third cup of roasted peppers contains 24 calories. The total amount of calories for this bagel dish depends on the type of bagel and the type of cheese you choose.
Step 3
For dinner or lunch, make a pizza bagel. Spread one-eighth of a cup of spaghetti sauce, which contains 34 calories, on top of half a bagel and place a slice of mozzarella cheese on top of the sauce. Heat it in the toaster oven until the cheese melts. Depending on the type of bagel you choose, this lunch or dinner option equals between 178 and 200 calories.
Things You'll Need
1/2 plain or oat bran bagel

No-sugar-added jam

Low-fat cheese such as Swiss, mozzarella or provolone

Jar of roasted peppers

1/8 cup of spaghetti sauce