The Abs Diet stresses eating from a group of 12 "power foods." These foods include nuts, beans, vegetables, dairy, oatmeal, eggs, lean meats, peanut butter, olive oil, whole grains, protein powder and berries. The creators of the Abs Diet -- David Zinczenko, editor-in-chief of Men's Health with Ted Spikersay, contributing editor -- explain that these foods help you feel full and provide energy for your workouts. The Academy of Nutrition and Dietetics reports that the Abs Diet is based on sound nutrition and recommended exercise, and could be a healthy way to improve diet. Contact your physician before beginning any diet or exercise program.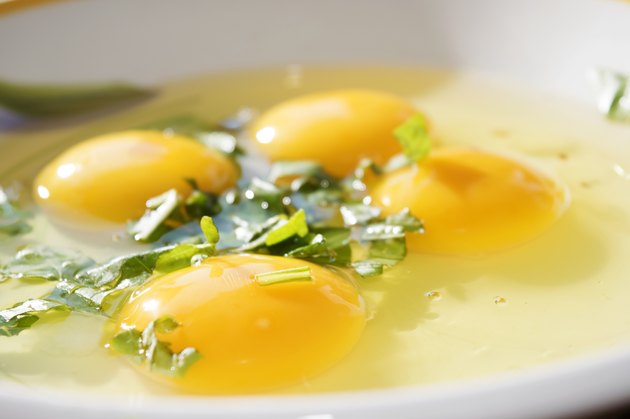 Why Breakfast is Important
It is important to eat breakfast every day. Eating in the morning helps your body begin burning food. This helps promote a healthy metabolism. Additionally, eating a healthy breakfast will fill you up and prevent you from overeating or making unhealthy food choices in the afternoon.
Whole Grains
Include a source of whole grains in your breakfast. Good whole grain choices include oatmeal, a whole wheat English muffin, whole grain waffles or whole wheat toast. Whole grains provide your body with healthy fiber. This will help you feel full and will also help to regulate blood sugar levels so that you remain energized throughout the day.
Protein
Protein will help support the development of lean muscle tissue and will help you feel full. Examples of protein choices at breakfast include eggs, egg whites, turkey, lean ham or whey protein powder. Prepare your food with healthy fats such as olive oil, and use it in moderation so that you don't add too many calories to your dish.
Fruits and Vegetables
Fruits and vegetables provide vitamins, minerals and fiber, and should be included with your breakfast on the Abs Diet. Add them to omelets or smoothies. You can also try fresh fruit on your oatmeal for a treat.
Examples
To complete your breakfast, add one option from each of the three categories on the Abs Diet -- a whole grain, a protein and one serving of fruit or vegetables. Try making a smoothie out of oatmeal, whey protein and berries. Or try egg whites scrambled with tomatoes and whole wheat toast. Another option would be to scramble an egg with peppers and onions and serve it on a whole wheat English muffin.