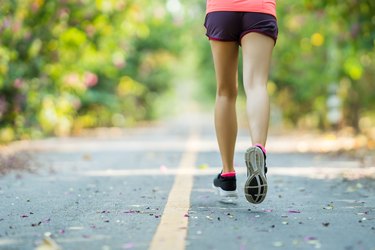 How many calories you'll burn during a 5K run depends on several factors, such as your conditioning, weight and age. The calories burned running on a treadmill will also vary significantly from those burned while running outdoors, especially if there are hills involved.
Tip
The number of calories burned during a 5K run depends on your weight and the environment you are running in. A 150-pound person running a 10-minute mile (9.6 kph) will burn an estimated 360 calories during a 5K run.
The American Heart Association (AHA) recommends that adults get at least 150 minutes of moderate-to-vigorous activity per week. The AHA urges people to take it slowly — if you've been sedentary, work your way up over time to performing around 30 minutes a day, five days a week. Starting with 10 to 15 minutes at a time is ideal. Training for and participating in a 5K race will help you meet this recommendation.
Using a Calories-Burned While Running Calculator
Although the number of calories you burn during a 5K run depends significantly on the factors outlined above, there are ways of calculating an estimate or average.
The American Council on Exercise (ACE) Physical Activity Calorie Counter determines that a 150-pound person running at a pace of 5 mph (8.05 kph) will burn approximately 360 calories in 5 kilometers. A 150-pound individual running at this pace will take about 37 minutes to complete a 5K race.
Comparatively, if you run a 10-minute mile, then you will burn around 340 calories and complete the race within about 31 minutes. A 10-minute mile (9.6 kph pace) is an approximate average pace for runners, according to a report published by Outdoor Industry Association.
The Mayo Clinic recommends a training protocol called the magic mile, which will help determine your 5K race pace. The first time you perform the magic mile, warm up and then run or walk a little faster than your average pace for 1 mile (1.6 km). Use a stopwatch to time yourself for your 1-mile run/walk.
Repeat this process on your next training days by trying to beat your previous 1-mile run/walk time. Ideally, your 5K race pace will be approximately one to two minutes slower than your fastest magic mile time.
If you know your average race pace, you may use the ACE's Physical Activity Calorie Counter to estimate your energy expenditure. All you need to do is to choose your pace and input your weight.
How to Prepare for a 5K
Long-distance running is a natural activity for humans, according to an article published in 2015 in the People, Ideas, and Things Journal. The human body has evolved for long-distance running by developing specific elements, such as the Achilles tendon.
This activity may protect against diabetes, obesity and heart disease, notes the above article. However, it may also cause issues like bone stress injuries, cramps, blisters and bronchospasm. To prevent injuries and the adverse effects of overtraining, it's important to prepare appropriately for long-distance running, such as a 5K race.
The Mayo Clinic recommends using a training schedule that combines running and walking with resting periods. Carefully planning your training schedule over seven or more weeks may lower your risk of injury.
Allowing your body to slowly adapt and adjust to increased levels of duration and intensity can also ensure that you won't be depleted by the time your 5K race day comes along, improving your chances of doing well. The Mayo Clinic provides a 5K Run 7-Week Training Schedule for Beginners available as a downloadable PDF, so you may want to check it out.