For patients without a family history of colorectal cancer, routine colonoscopy screening should begin at age 50, advises the National Digestive Diseases Information Clearinghouse. During this testing procedure, a doctor uses a thin, lighted tube called a colonoscope to examine the inside of the colon. Patients should be aware of colonoscopy after effects before having this diagnostic procedure performed.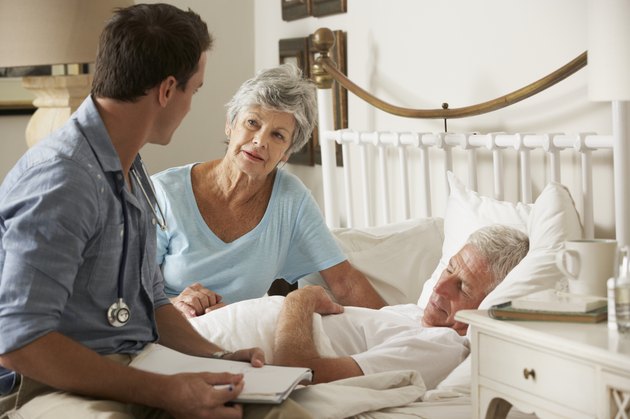 Abdominal Bloating or Discomfort
Patients can experience abdominal bloating or discomfort as a colonoscopy after effect, warns Dr. Mark Fagan at Brown Medical School. During this procedure, a doctor pumps small amount of air into a patient's colon to allow her to view the inside of this digestive organ. As a result, patients can experience cramping or bloating within the abdomen for a few days until all of the air passes out of the body. Rarely, certain patients can experience moderate to severe abdominal pain or swelling after this procedure. People who develop these after effects should seek care from a doctor.
Passing Blood From the Anus
After a colonoscopy, patients may pass small amounts of blood from the anus that may be visible within their stools or on the toilet paper used to wipe the anal region after a bowel movement. Anal bleeding can occur when a doctor removes small growths of tissue, called polyps, from the inside of bowel during a colonoscopy. Typically, anal bleeding in mild and resolves without further complications, notes the medical database UpToDate. If a doctor removes a large polyp from the colon, certain patients can experience excessive anal bleeding or hemorrhage, an after effect that requires further evaluation and care from a medical professional.
Bowel Tearing or Damage
As a doctor passes a colonoscope up through the anus and rectum and into the colon, this tool can accidentally tear or damage a patient's bowel. Affected patients may require hospitalization or surgery to resolve this rare colonoscopy after effect, according to Jackson Siegelbaum Gastroenterology. Bowel damage can increase a patient's risk of developing peritonitis, a severe bacterial infection of the abdominal cavity that can cause fever, nausea, vomiting, abdominal pain and increased thirst. Such complications can be life-threatening and require emergency medical attention.