A colonoscopy is a diagnostic tool used to determine the location and nature of any disease, obstruction or inflammation in the colon. People not only use a colonoscopy to diagnose problems, but as a proactive screening tool to check for colon cancer. Colonoscopy is usually done while the patient is awake, but sedated. Preparation for a colonoscopy includes cleansing the colon of all fecal matter by way of a laxative and enema a day or so prior to the test.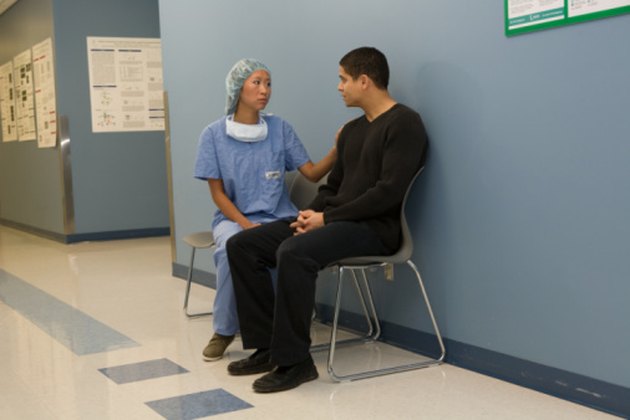 Bleeding
A colonoscopy may be done if a person experiences bloody stools. The test will show the location of bleeding within the intestines and the reason behind it. Some people with inflammatory disorders such as Crohn's disease experience intestinal bleeding; a colonoscopy can not only pinpoint where the blood is coming from, but if ulcers or other abnormal tissues are producing the bleeds. One of the reasons that people are discouraged from drinking red juices or eating red foods prior to a colonoscopy is that the dark coloring can sometimes be mistaken for blood when viewed through a colonoscope.
Inflammation
Inflammation in the colon can be detected through a colonoscopy. A computed tomography (CT) scan is often performed before a colonoscopy if a person is suffering from inflammation in the abdominal area or symptoms like diarrhea that can be associated with inflammatory bowel disease. A colonoscopy shows the entire surface of the colon allowing doctors to see inflammation and other tissue abnormalities.
Abnormal Cells
Polyps are small growths that may appear in the colon, and will show up on a colonoscopy. A colonoscopy can show not only how many polyps are present in the colon, but if abnormal or diseased tissues are present as well. Obstructions in the colon, such as those from tumors, can also be seen during the test. During a colonoscopy, doctors can remove polyps and tissue samples for biopsies. A colonoscopy will therefore help detect pre-cancerous cells or active cancer cells growing in the lining of the intestines.
Clean Bill of Health
In addition to abnormalities (referred to as a positive result), a colonoscopy can show no problems at all and can deliver a clean bill of health to the patient. A healthy colon is called a negative result in the language of colonoscopy, meaning there are no abnormalities of which to speak.