A colonoscopy is a physical examination of the large intestine and rectum. Colonoscopies help doctors to investigate unexplained changes in a patient's bowel habits, weight loss and abdominal pain. They are also used to screen for cancer. During the examination, a tube with a camera attached is inserted into the rectum. This camera allows the doctor to examine the patient's colon, take biopsies and see to any polyps that need removing. A patient is usually sedated while having a colonoscopy.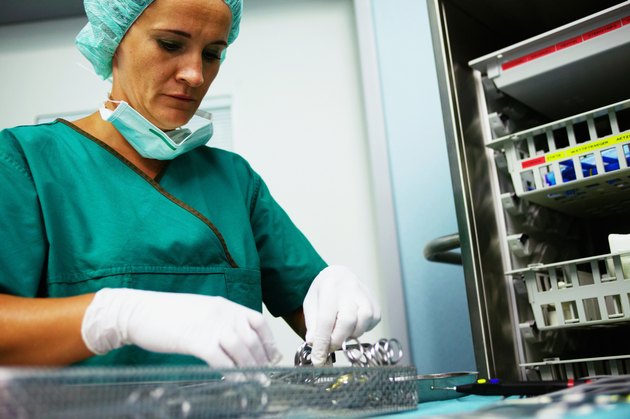 After a Colonoscopy Exam
Step 1
Accept a drink and a cracker from the nurses when you wake up after your colonoscopy. You will probably feel hungry and thirsty due to not eating anything in preparation the day before. The nurses will monitor your recovery until you are alert enough to go home.
Step 2
Have a friend or family member drive you home when you are discharged from the hospital, as the sedative used during the exam will usually take a few hours to wear off. You are advised not to travel on public transport, but if you have no choice you should ask someone to accompany you.
Step 3
Read the discharge information from the hospital thoroughly. This can provide you with advice on your recovery and who to contact if you experience any problems once you get home.
Recovering at Home
Step 1
Spend the evening of your colonoscopy at home resting. You may feel sleepy from the sedative, experience slight discomfort and rectal bleeding, or feel bloated and uncomfortable as a result of the procedure.
Step 2
Have a simple meal or pick at snacks during the evening to help regain your strength. You may feel hungry and weak as a result of the fasting procedure before the examination. You are allowed to eat anything you want and are not restricted to certain foods during the recovery period, however your stomach may not want to be overloaded after being empty for so long. Try a few slices of toast if your stomach feels sensitive.
Step 3
Take over-the-counter pain relief such as acetaminophen or ibuprofen if you feel sore following the procedure and need pain relief.
Step 4
Contact your doctor immediately if you suffer from any serious side effects following the procedure. Serious side effects are rare but may include severe abdominal pain, fever, bloody bowel movements, dizziness and weakness.
Step 5
Avoid drinking alcohol, driving, operating machinery or signing any legal documents for 24 hours after your colonoscopy. The sedation will affect your coordination, reasoning skills and responses temporarily, so you must wait for this to pass.