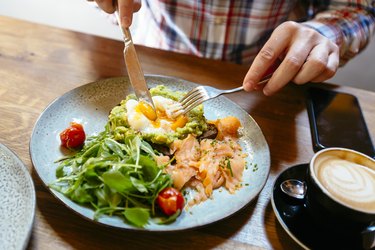 So, you have a major event coming up in two weeks that you want to look great for. Unfortunately, you're not quite where you want to be weight-wise and the things you've been doing have resulted little to no results. How do you lose weight fast in just 14 days?
While there's no magic potion for dropping pounds ASAP, successful, long-term weight loss comes down to one simple thing: a caloric deficit. Essentially, that means burning more calories than you consume. You can do that through cutting calories from your diet or exercising more or a combination of both.
Since you're facing a tight deadline, you may think that crash dieting and spending hours a day at the gym will help you create an even bigger deficit and thus lose more weight. And while that may be true in the short-term, it can result in regaining the weight you lost (and then some). It can also be detrimental to your future weight-loss efforts and overall health. Take the smarter approach by following these six steps.
Did you know that keeping a food diary is one of the most effective ways to manage your weight? Download the MyPlate app to easily track calories, stay focused and achieve your goals!