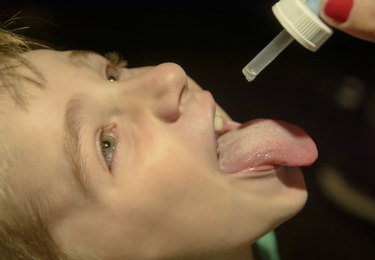 Children need to get enough vitamins for optimum growth and health. According to the MayoClinic.com, eating a balanced diet helps children meet their requirements. However, children may need a multivitamin supplement if they are picky eaters or have diets that restrict certain food groups. The best liquid vitamins contain 100 percent of the daily value for many vitamins without containing toxic amounts of any ingredient.
Kids Companion
Natrol Liquid Kids Companion is a formula with vitamins, herbs, and green tea extract. Each teaspoon serving has 100 percent or more of the daily value for vitamins C, D and E. Consuming vitamin D is particularly important for children who do not get enough exposure to the sun. Other vitamins in this supplement are the B vitamins and 50 percent of the daily value for vitamin A. Kids Companion contains green tea as well as a proprietary Ultra Green Foods Concentrate that includes hesperidin, alfalfa, peppermint, and spinach. The natural flavors are vanilla and berries, and the sweetener is brown rice syrup. Natrol states that children do not always eat healthy, and that this formula can promote overall good health. The Food and Drug Administration has not assessed this supplement.
Intrakid
Intrakid from Drucker Labs is a raspberry-flavored liquid dietary supplement with at least 100 percent of nearly every vitamin. It also has calcium, iron, and zinc. None of the 215 essential nutrients in this all-in-one dietary supplement are synthetic chemicals. The supplement contains a variety of blends with enzymes, probiotics, fruits, herbs and amino acids. Some of the other nutrients it provides are omega three fatty acids, antioxidants from grape seed extract, lutein and lycopene, and citrus bioflavonoids. Drucker Labs says that this supplement may provide several benefits including supporting mental focus, digestion, growth, and immunity. The Food and Drug Administration has not evaluated this supplement's ingredients and health claims, and you should be cautious when choosing a supplement for your children.
Essentials Childlife
Essentials Childlife Multi-vitamin and Mineral is a liquid vitamin for kids in an orange mango flavor. Essentials Childlife emphasizes that children need adequate nutrients for development, immunity, and brain function. According to the company, your children may need a nutritional supplement because nutrient depletion from farming soil means that there are fewer nutrients in foods. Each 2 tsp. serving provides at least 100 percent of the daily value for vitamins C, E, B2, B6 and B12, as well as smaller amounts of the other vitamins. This organic supplement has no artificial colors, flavors, or sweeteners, and it is wheat and dairy free. Children can take this supplement plain or add it to their favorite drink. The Food and Drug Administration does not investigate dietary supplements for safety or health claims.