While we know smoothies can be a handy meal or snack in a flash, are smoothies also a good way to help you lose weight? We asked Jackie Newgent, RDN, culinary nutritionist and author of The All-Natural Diabetes Cookbook all about this popular meal-replacement option. The goal? To separate the facts from fiction and help get you started on your weight-loss goals, well, the smoothest way possible.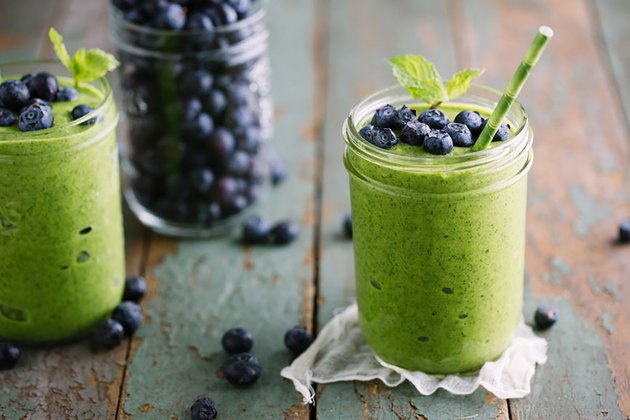 Newgent says, "A smoothie is 'healthy' when it's not simply a milkshake or sugar 'bomb' in disguise. Ideally, a healthy smoothie is based on wholesome ingredients and has a balance of macronutrients — good carbs, protein and healthy fats." With that in mind, we've rounded up a bunch of weight loss smoothie recipes below that hit that nutritional mark and will help you achieve your weight-loss goals, one cup of blended goodness at a time.
Everyday Green Smoothie
The green smoothie is the first type of smoothie that may come to mind when it comes to helping you lose weight. Newgent warns that not all green smoothies are created equally. If the smoothie contains good carbs, protein and healthy fats, she says, then they absolutely can be helpful for weight management.
So how does one go about making a healthy green smoothie? A lot of it comes down to your taste preferences, but remember to stay away from adding foods loaded with sugar like honey, maple syrup and processed nut butters. This green smoothie follows Newgent's guidelines for a healthy smoothie recipe: Avocado for healthy and beneficial fats, a serving of chia seeds for a plant-based protein and a healthy serving (one and a half cups) of nutrient-dense kale.
Almond Butter & Blueberry Smash Smoothie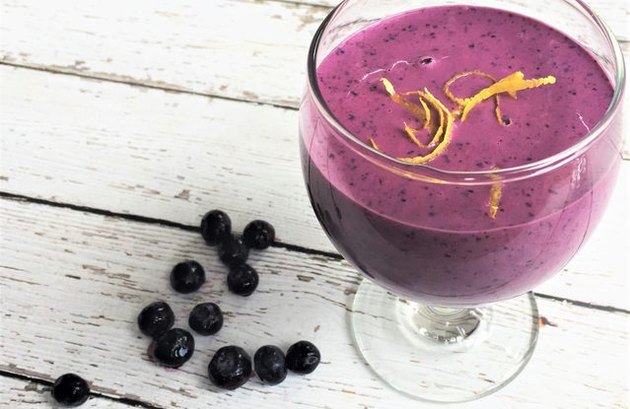 So, if you're looking to lose weight, are smoothies actually a good way to do it? Newgent advises that smoothies can be helpful for weight management if they're, "appropriately integrated into an eating plan to fill a nutrient void, if the serving size is just right for your energy needs, and if the smoothie provides ingredients that can boost satiety — that feeling of fullness." It's the coupling of protein and fiber that is the key to satiety, Newgent explains.
Given those guidelines, this almond butter and blueberry smoothie would make a great breakfast or a post-workout snack to help lose weight. The frozen blueberries provide important antioxidants that protect cells from damage, are a natural energy source and are loaded with fiber. The unsweetened almond milk and almond butter provide protein and healthy fat that will keep you fuller, longer. And the greek yogurt provides additional protein plus gut-healthy probiotics. And all under 250 calories per serving.
Energizing Green Smoothie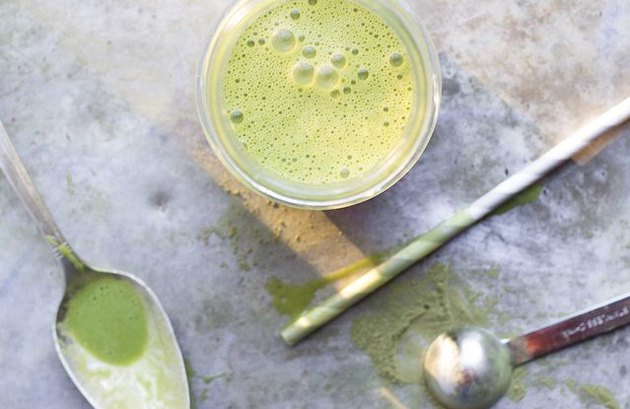 Since smoothies can be a quick, on-the-go meal, include ingredients that give your healthy lifestyle an added punch, like matcha green tea powder. According to matchasource.com, matcha contains 137 times the amount of antioxidants in regular brewed green tea. This helps protect cells against free radical damage that causes premature aging and diseases.
Matcha also comes with with a dose of caffeine for energy, but unlike other caffeinated drinks, matcha-based caffeine is released into the bloodstream slowly, providing a steady energy source rather than a spike.
When purchasing matcha, Stephen Cheuk, founder of House of Matcha, told Well + Good to look for ceremonial-grade matcha green tea powder stored in re-sealable packaging (not a loose bag or foil) since it's a live product and it's critical to maintain freshness. He also recommends buying matcha that is bright green, silky in texture and smells fresh and 'green,' ideally produced from one of these areas in Japan: Uji, in Kyoto prefecture, and Nishio, in Aichi prefecture.
And when it comes to matcha, you get what you pay for. "Ceremonial matcha will cost around $29-$39 for about 30 grams," says Cheuk. Avoid matcha green tea powder that cost as much as a generic box of tea bags.
Creamy Berry Smoothie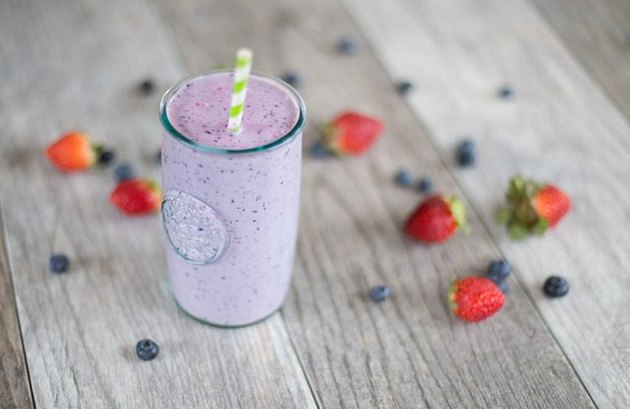 In case you didn't know, tofu works as well in smoothies as it does in your weekly stir-fry. Once blended, it will add a silky texture to your drink, along with plant-based protein and calcium. And thanks to the variety of non-dairy milks available at grocery stores like almond, coconut and oat milk, you can easily turn your smoothies vegan.
As conscious consumerism grows, swapping one of your regular meat-based meals for a vegetarian or vegan meal can have dramatic health benefits. Take it a step further by following a vegan lifestyle, and the health benefits are even more significant.
By skipping animal products, you can reduce your saturated fat and cholesterol intake, says Nicole Geurin, MPH, RD. "This in turn can help boost your HDL (good) cholesterol and lower your LDL (bad) cholesterol and triglycerides — all of which may reduce your risk of heart disease," she says.
Mochaccino Smoothie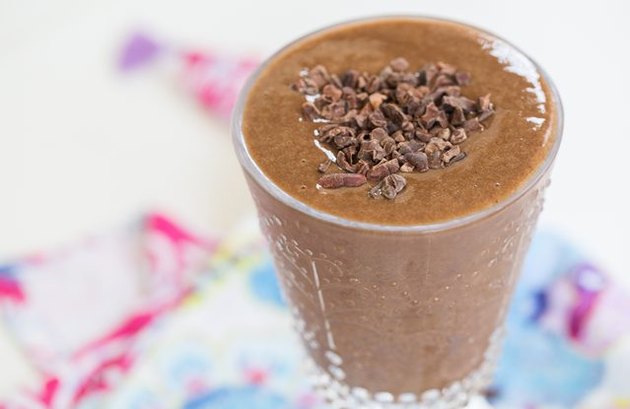 If you want to source smoothie recipes for weight loss, Newgent says there are some caveats, especially if you're going to use a smoothie as a breakfast option. "The smoothie needs to provide enough energy (calories) and satisfaction to carry you to lunch, and it absolutely needs to be rich in protein — ideally 15 grams of protein or more," she warns. Adding "protein is key since your body and those muscles of yours need it throughout the day, not just at lunch or dinner time."
This healthy smoothie recipe provides a satisfying amount of protein along with a caffeine kick with eight ounces of cold brew thrown into the mix. Almond milk and pea milk make up the protein portion while the banana adds potassium, essential for those who work out and want to avoid muscle cramps.
Sunrise Cinnamon Spice Shake
Vegan Hint-of-Sweet Avocado Shake
Green Superfood Smoothie Jar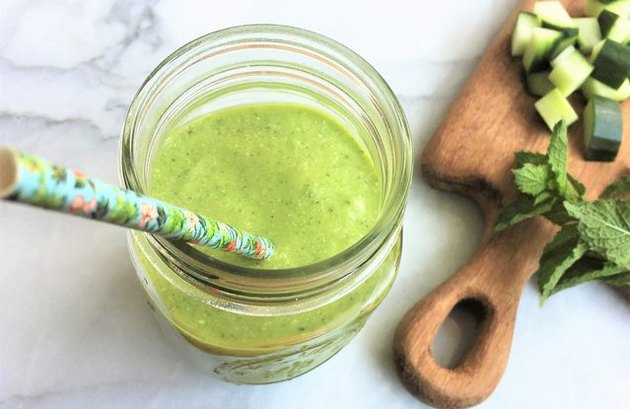 The best thing about this healthy smoothie recipe? It's full of ingredients that you probably already have stored in the freezer. A variety of frozen fruits and vegetables, from mango cubes to broccoli and baby spinach all come together with a splash of lemon juice, ginger and turmeric.
Don't forget to add spices and herbs to your smoothie recipes. They add flavor and health benefits without adding calories. Ginger and turmeric have amazing anti-inflammatory powers along with a slew of other positive attributes like aiding in digestion.
Herbed Avocado Shake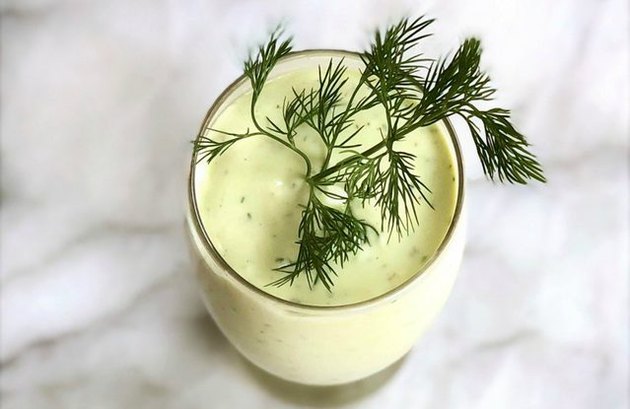 Newgent says the best things to put in a smoothie to lose weight is ample protein and fiber (with no added sugar) to satisfy your appetite, which will carry you from one meal to the next. "A smoothie with at least 5 grams of fiber and 10 grams of protein is a good bet. Choose ingredients that provide the duo like nut or seed butters, shelled hemp seeds and pulses," she adds. And try to choose whole foods with multiple nutritional benefits like shelled hemp seeds rather than singular sourced ingredients like hemp protein.
This healthy green smoothie recipe for weight loss has it all: Greek yogurt for protein, fiber and gut-healthy probiotics, hemp seeds for more protein and fiber and avocados for heart-healthy fats.
What Should I Eat For Breakfast To Lose Weight Fast?
The most important thing to do for breakfast, says Newgent, is to eat a breakfast that meets some of your daily food requirements such as a fruit, protein and a whole grain serving. "For weight loss, research suggests it may be helpful to be somewhat repetitive. It's okay to do the same thing, every day, for one of your meals. However, if you eat or drink the same thing every day (i.e. a smoothie for breakfast), do vary the ingredients used in it to vary the nutrients you're feeding your body," she advises.