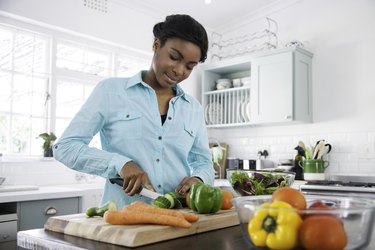 LIVESTRONG.com may earn compensation through affiliate links in this story. Learn more about our affiliate and product review process
here
.
You've resolved to forgo the takeout in favor of home-cooked meals more often. Kudos to you for saving calories and cash!
You stand to save big: A staggering 92 percent of all meals served in restaurants deliver more than the 600 or so calories you need in a single meal, and some may pack up to 1,495 calories, according to an April 2016 study in the Journal of the Academy of Nutrition and Dietetics.
Eating in won't just spare you those extra calories; it can also help pad your bank account. People saved around $57 a month just by cooking at home a bit more often, according to a May 2017 study in the American Journal of Preventive Medicine.
Now all you need to do is figure out what you're actually going to make. Rather than endlessly flipping through cookbooks and then settling for your rote recipes in defeat, try your hand at these delicious, simple, healthy recipes to shake up your tired meal routine.
Wake Up to a Healthy Breakfast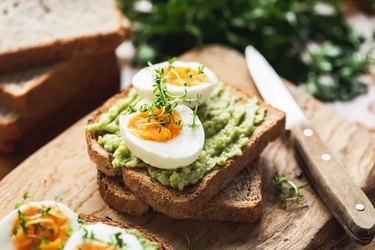 Skip sugary cereal or buttered white toast and opt for a well-rounded breakfast, such as our Creamy Berry Quinoa Parfait, Mediterranean Morning Scramble, Savory Protein Oats or Cheesy Eggwich — all of which are worth waking up for.
Skip the Sad Desk Lunch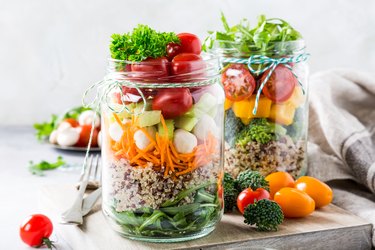 Making time for a balanced breakfast before speeding out the door is difficult enough, but prepping a healthy lunch, too? These mouth-watering lunch recipes can be batch-cooked in advance or easily thrown together in the morning.
Packable meals — such as our Mashed Chickpea Club Sandwich and Cauliflower Grilled Cheese — will give your usual salad a run for its money.
Sit Down to Dinner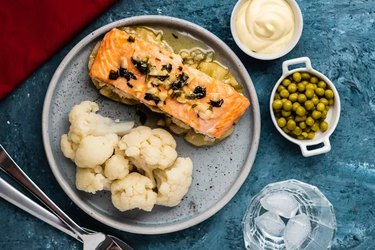 It's rare we ever want to cook an elaborate meal after a long day at work (and maybe an hour at the gym), but that doesn't mean we have to hit the drive-thru on the way home.
Healthy dinners like Turkey Fried Rice and Grilled Sweet-and-Spicy Salmon can be whipped up under 30 minutes, so you'll end your day with a nutritious supper without feeling like you've worked overtime.
Set It and Forget It in Your Slow Cooker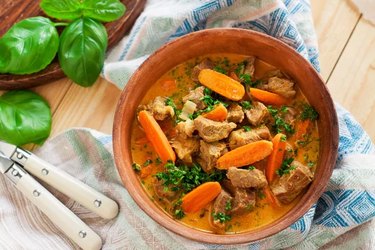 Count on your slow cooker to marry nearly any source of protein, variety of veggies and high-fiber carbs for a well-rounded meal ready without much effort. All you have to do is add your ingredients to the pot and press "on" — no stirring, basting or flipping required.
From slow-cooked Green Chile Flank Steak Tacos to Turkey Sloppy Joes to Osso Bucco, the options are basically endless. Using this kitchen tool is a great way to ensure a good-for-you meal gets on the table on nights when you really don't feel like cooking.
Give Bland Chicken a Makeover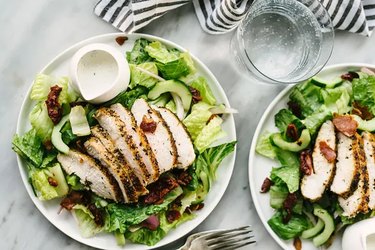 Chicken is that one lean protein that always makes its way to the top of the menu because it's affordable, easy to prep and super versatile. But eating it twice a day means you won't look forward to forking into your meal.
Ditch the boring bird you're used to baking and try your hand at tasty plates like turmeric-marinated tenders and low-carb Chicken Pad Thai Zoodles.
Blend Better Smoothies
Smoothies may seem like the epitome of healthy eating, but they can really rack up the calories and sugar if you're relying on the wrong ingredients.
"A smoothie is 'healthy' when it's not simply a milkshake or sugar bomb in disguise," Jackie Newgent, RDN, culinary nutritionist and author of The All-Natural Diabetes Cookbook, says. "Ideally, a nutritious smoothie is based on wholesome ingredients and has a balance of macronutrients — good carbs, protein and healthy fats."
Swap your a.m. latte for the cold-brew-spiked Mochaccino Smoothie and end your day with the Almond Butter and Blueberry Smash Smoothie for a sweet sip loaded with antioxidants.