While each of us may have different desserts come to mind when we think about autumn, we can all agree that a pumpkin dessert would be somewhere near the top of most everybody's list — especially pumpkin pie. (What Thanksgiving table would be complete without it?) But if you take a look at the recipe on the back of the pumpkin puree can, one slice of pie serves up a whopping 20 grams of sugar, which will wreck your daily allowance. According to the American Heart Association, the maximum amount of added sugars you should consume in a day is 25 grams for women and 38 grams for men. (For the record, "added sugar" refers to sugars put in foods during preparation or processing, as opposed to naturally occurring sugars such as those found in fruit or milk.)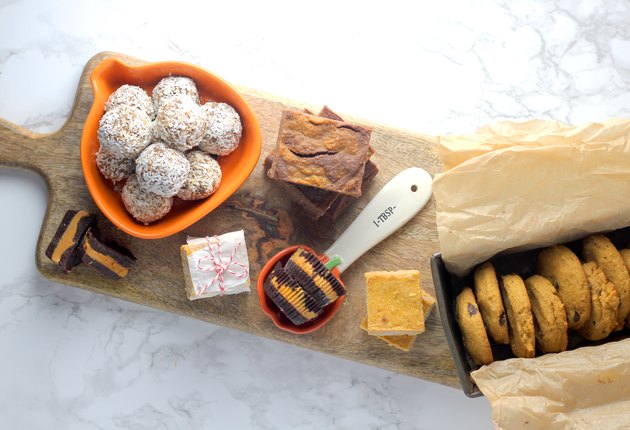 So how can you have your cake (or pie) and eat it too? Fear not, there are plenty of ways to enjoy your favorite fall treats while keeping those sugar numbers down. Check out these seven delicious, easy-to-make pumpkin recipes made with whole foods and better-for-you sweeteners like dates, coconut sugar and monk fruit sweetener. The best part? Each dessert has less than 10 grams of total sugar per serving.
1. Individual Pumpkin Pies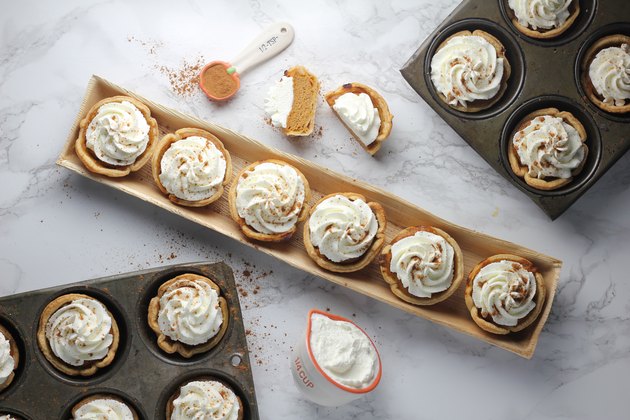 Let's start with that pumpkin pie. We cut the amount of sugar found in the recipe in half and replaced granulated sugar with coconut sugar. Coconut sugar is the boiled and dehydrated sap of the coconut palm and contains trace amounts of vitamins, minerals and phytonutrients. It also ranks much lower on the glycemic index than refined sugar like regular table sugar (35 versus 60 to 75). Foods high on the glycemic index cause your blood sugar to spike, which can lead to that infamous "sugar rush" and subsequent crash.
That said, all sweets should be consumed in moderation, and we've made these treats a little smarter (thanks to the muffin tin) by serving them as individual portions, so you'll know when to stop.
2. Pumpkin Carob-Chip Cookies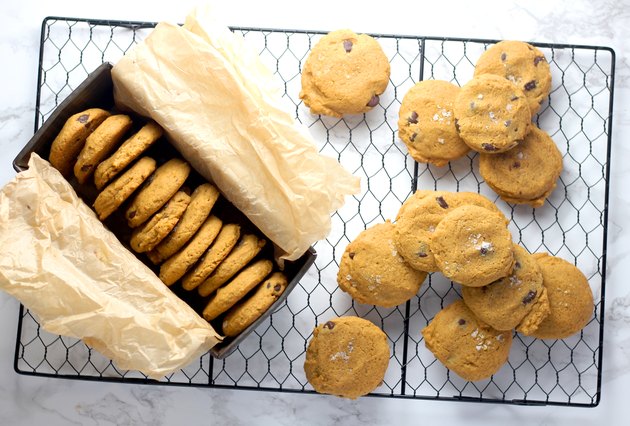 Who doesn't love a chocolate-chip cookie? And there's so much more to enjoy with this better-for-you vegan version. To start, coconut sugar, which contains trace amounts of vitamins, minerals and phytonutrients, replaces the table sugars found in the traditional recipe.
Carob chips are made from the syrup processed from carob pods and provide a chocolate-like feel and flavor with less calories. Unlike chocolate chips, carob chips are caffeine-free, contain three times the calcium and are naturally rich in a number of nutrients and antioxidants.
3. Pumpkin-Pie Freezer Fudge
Healthy fudge? Yes, please. This decadent, vegan and gluten-free one-bowl fudge takes all of five minutes to whip up in your food processor and is guaranteed to fly off your holiday table. The secret? Unsweetened coconut. If you've only ever used the sticky, presweetened stuff in your baking, you're in for a real treat because raw coconut is naturally sweet and rich in fiber and minerals.
4. Pumpkin Mousse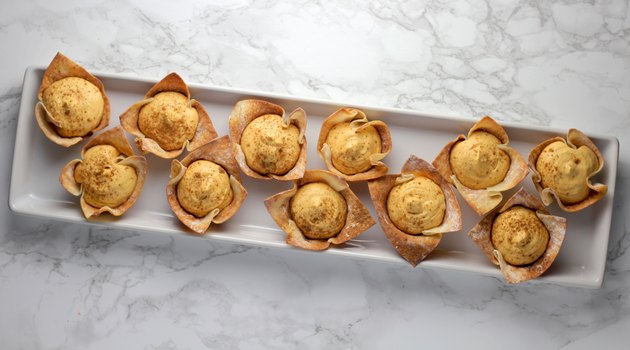 This no-bake mousse is a busy baker's dream. Aside from the ingredients, you only need one bowl to make this dessert, and it can be made up to two days in advance. It also serves a crowd, making it perfect for holiday gatherings. And while you could certainly serve it up in a big bowl and help yourself, these simple wonton cups help keep portion size under control.
5. Pumpkin Peanut Butter Cups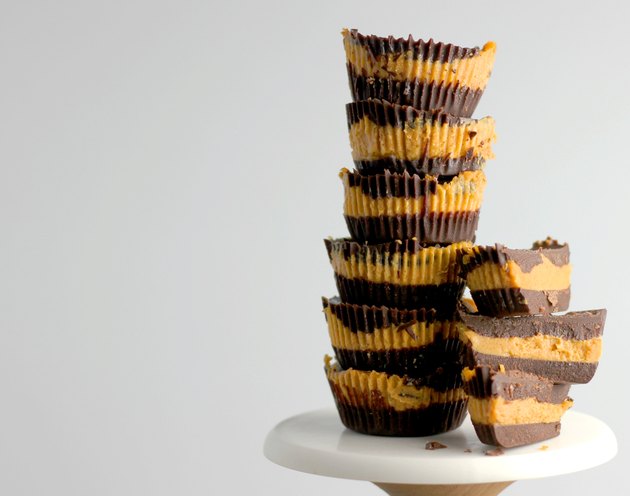 These vegan and gluten-free pumpkin peanut butter cups are a perfect example of how easy it is to dial down the added sugar without sacrificing an ounce of flavor. Instead of using presweetened chocolate, the shells are created by combining melted coconut oil with unsweetened cocoa powder. This allows you to add just the right amount and type of sweetener you want.
Naturally sweet pumpkin pairs beautifully with peanut butter, but you can substitute your choice of nut or seed butter. Make an extra batch to stash them in the freezer long after the holidays are gone for whenever a snack attack strikes.
6. Pumpkin Spice Latte Energy Bites
7. Pumpkin Swirl Brownies