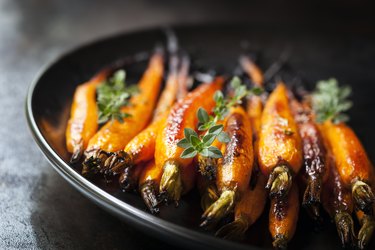 Maple syrup is perfect for piling on pancakes, yes, but limiting the ingredient to your morning meal sells it short.
The sticky syrup can supply a natural nutty, earthy sweetness to veggies, meats and baked goods, creating deeper, more complex flavors in your favorite foods.
From breakfast to dinner, desserts and snacks, these six maple syrup recipes — with 9 grams of sugar or less — add a touch of sweet deliciousness to your meal plan.
1. Wilted Kale Salad With Roasted Squash and Maple Dijon Dressing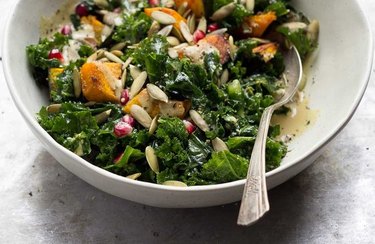 ​Calories: 212​
​Sugar: 3 grams​
From hearty winter squash to plump pomegranate seeds and crunchy pepitas, this colorful kale salad is an ideal light lunch loaded with texture and flavor. A drizzle of maple-Dijon dressing gives these greens a smidge of sweetness without overdoing it on sugar (this recipe has a mere 3 grams per serving).
For a more filling salad, bulk up the protein content with grilled chicken breast or chickpeas.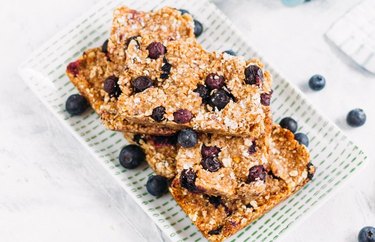 ​Calories: 139​
​Sugar: 8 grams​
Need a nutritious on-the-go snack? Made with crunchy almonds and fresh blueberries, these homemade oat bars are better than many store-bought varieties, which often contain added sugar. These good-for-you granola bars get their natural sweetness from dates and maple syrup.
Plus, they're perfect for meal prepping — one batch yields 12 bars (that's almost two weeks' worth of healthy bites with built-in portion control).
3. Pumpkin Spice Protein Pancakes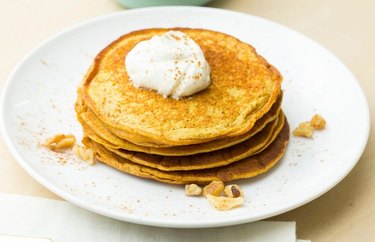 ​Calories: 210​
​Sugar: 9 grams​
Looking for an excuse to use that bottle of pumpkin spice in your pantry? These fluffy pancakes provide the perfect opportunity to indulge in fall's favorite spice mix. Topped with Greek yogurt, maple syrup and pecans, these flavorful flapjacks enjoy an extra dose of filling fiber and protein thanks to chickpea flour blended in the batter.
4. Curried Chicken and Acorn Squash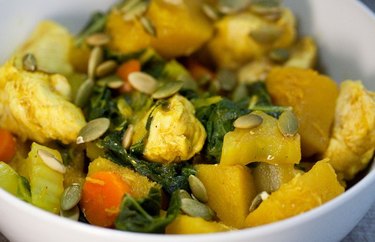 ​Calories: 408​
​Sugar: 8 grams​
With its warm spices, this hearty bowl of chicken curry will keep the chill out of your bones on cold days. A dash of maple syrup supplies a hint of sweetness while raw pumpkin seeds offer a satisfying crunch (plus satiating heart-healthy fats and immunity-boosting zinc).
An assortment of acorn squash, bok choy and carrots turn up the texture, so every bite is brimming with a variety of tastes and vitamins.
5. Pumpkin Pie Freezer Fudge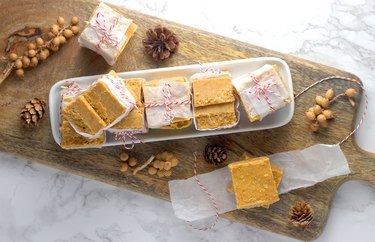 ​Calories: 164​
​Sugar: 3 grams​
This low-sugar fudge — packed with pure pumpkin, almond butter and maple syrup — will crush your cravings without hindering a healthy diet. With healthy fats from coconut oil and only 6 grams of carbs per serving, these sweet bites make a delicious dessert for keto followers.
The bonus: no baking necessary. To make this no-fuss, flavorful fudge, simply toss the ingredients in a food processer, spread on a loaf pan and freeze.
6. Sweet and Spicy Carrot and Lentil Salad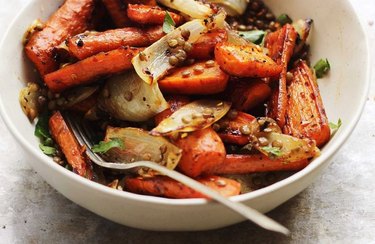 ​Calories: 127​
​Sugar: 8 grams​
If you're a fan of sweet and spicy combos, you'll salivate over this savory, warm carrot and lentil salad that delivers a delicious drop of maple syrup to balance out the heat from crushed red pepper. Serve as a souped-up side salad or make it a meal by doubling your serving (it'll still clock in below 300 calories).
Short on time? Use canned lentils — just rinse them beforehand to reduce the sodium.