Almost half of American households serve tuna daily, according to a 2008 article from the Environmental Defense Fund. With an array of tuna in pouches and cans on grocery shelves, it can be hard to determine which is the best type for you. Albacore and chunk light tuna are both good sources of protein with very little fat, but nutritional differences and potential mercury concerns may influence your decision as to the one you purchase.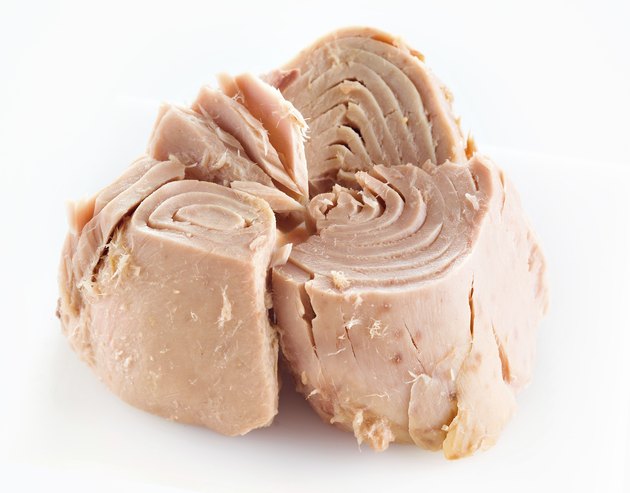 Nutrition
A 3-ounce serving of chunk light tuna contains slightly fewer calories -- 99 -- compared to the 109 calories in 3 ounces of albacore tuna. Chunk light tuna also provides one-third the fat and slightly more protein, 22 grams per 3 ounces versus 20 grams. Chunk light tuna is also higher in selenium, vitamin B-12, niacin and iron. Chunk light tuna contains less sodium than albacore. Albacore, however, contains more heart-healthy omega-3 fats with 808 milligrams versus 239 milligrams in chunk light.
Mercury
Albacore tuna contains more mercury than chunk light tuna. If you are pregnant or nursing, or planning to become pregnant, you should limit your intake of fish high in mercury; you can safely consume just one 6-ounce serving of albacore tuna or 12 ounces of chunk light tuna per week, according to the FDA. You should follow the same guidelines when feeding tuna to young children, as ingesting too much mercury can cause damage to the nervous system of babies and young children. If you do not fall into these high risk categories, the FDA states that you do not need to worry about limiting your fish intake, but the Environmental Defense Fund, or EDF, recommends eating chunk light tuna just once per week. The EDF is also more conservative in its recommendations for children, noting that they should have no more three servings of chunk light tuna or one serving of albacore tuna each month.
Taste and Texture
Canned albacore tuna is white-meat, albacore tuna sold in large pieces. It has a meaty texture and mild flavor. Chunk light tuna is usually made from skipjack tuna and is pinker in color with a flaked or shredded appearance. It has a slightly more intense flavor. Some chunk light tuna is made with yellowfin, which has almost as high a mercury content as albacore and as such, check the ingredient list on the brand you choose.
Considerations
Canned tuna may contain soy. If this is a concern, read labels carefully to find brands that do not include it. Choose tuna packed in water to save calories and fat. Chunk light tuna is sometimes sold flavored with lemon pepper, sweet-and-sour sauce or hickory flavorings. These tunas contain more sodium and some flavors have added sugar as well.