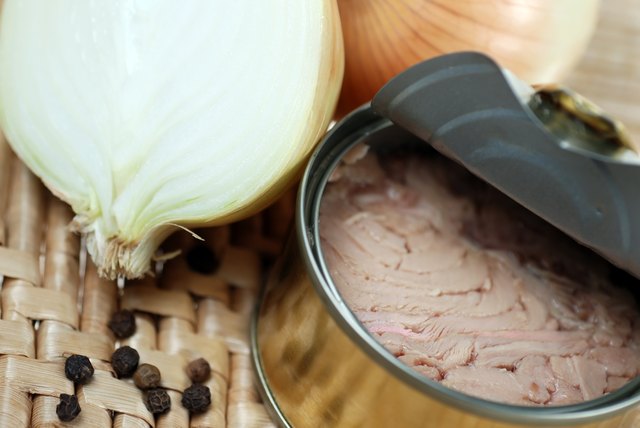 Canned tuna is a lean, inexpensive source of protein. But like most fish, tuna contains traces of mercury. For this reason, the U.S. Food and Drug Administration (FDA) recommends certain people limit their intake of certain fish, including tuna. The amount of canned tuna you can eat every week depends on your physical condition and the type of tuna you choose.
Significance
The American Heart Association recommends that you consume 3.5 ounces, or ¾ cup of flaked fish, two times per week. The emphasis of the recommendation is on fish high in omega-3 fatty acids, which support heart health and brain function. Canned tuna is among the seafood highest in these essential fatty acids.
Concerns
Mercury contamination and polycholorinated biphenyls, dioxins and pesticide residue come from pollutants in the water. Mercury can damage the brain and nervous system development in fetuses and young children. Adults who ingest high levels of mercury may suffer nerve damage and damage to the brain and nervous system, too. While pregnant women and young children can benefit from the nutrition in canned tuna, they are more vulnerable to the negative effects of consuming mercury. The FDA classifies chunk light tuna as a fish low in mercury, while canned albacore tuna is higher in mercury.
Expert Recommendation
The FDA notes that most people can consume fish regularly without risking their health. Pregnant women, nursing mothers and young children, however, should limit their consumption. Even women who may become pregnant should be careful about mercury consumption because the toxins can remain in the body for over a year. These people can eat up to 12 ounces of low-mercury fish per week; canned chunk light tuna can make up some or all of these 12 ounces If you eat canned albacore tuna, limit your intake to 6 ounces per week if you fall into one of the vulnerable population categories.
Considerations
Recommendations for canned tuna are different than those for fresh tuna steaks, which tend to contain higher levels of mercury. Vulnerable populations should limit intake of fresh tuna to just 6 ounces per week, advises the FDA. If you are wary about consuming fish for fear of its effects on your unborn child, be aware that consuming too little omega-3 fatty acids can also negatively affect your baby's development.