Eating fish and other seafood as part of a balanced diet has health benefits. It's common to have concerns regarding potential pollutants found in fish and wonder which varieties provide the most benefits. With a little know how, you can easily identify and choose the best fish varieties for you and your family. Aim to have fish for at least two meals each week, recommends the American Heart Association.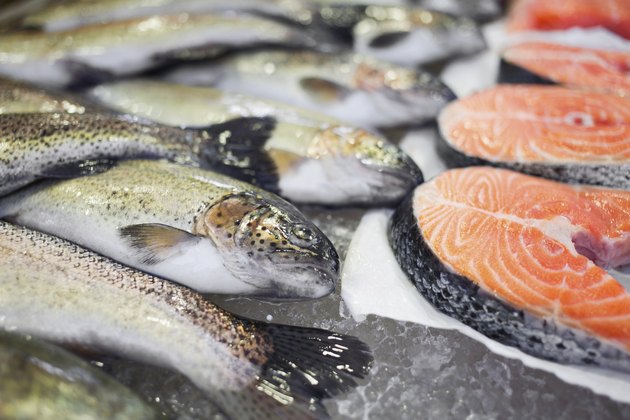 Getting Fishy
Much of the health benefits of eating fish are related to its omega-3 content. Fish contain EPA and DHA, two omega-3 fats found almost in high amounts in fish. Omega-3 fats are heart healthy and help reduce inflammation, according to University of Michigan Integrative Medicine. However, the omega-3 content of different varieties of fish varies greatly. To reap the most benefits, choose cold water, fatty fish. Cold water fish provide the richest source of omega-3 fatty acids due to their cold, deep water environment and diet, which promotes higher omega-3 production than other fish varieties, reports Michigan.
Striking Balance
The healthiest cold water fish are those high in omega-3 fats and low in mercury -- a major aquatic contaminant. Topping the list is Atlantic mackerel, cod, haddock, herring, mahi mahi, salmon, anchovies, pollock, trout, whitefish, canned light tuna and sardines. These cold water varieties are rich in omega-3s and lowest in mercury. Wild salmon, for example, contains 3.2 grams of omega-3 fats on average, according to the University of Michigan Integrative Medicine.
Get Wild
Habitat plays a central role in the health of fish and exposure to toxic substances. You'll find wild, wild-caught and farm-raised cold water varieties at your local fishery, and it's crucial to choose healthy options. Farm-raised fish may contain higher levels of contaminants than wild, or wild-caught fish, according to the University of Michigan. Some fish farms take extra precautions to limit contaminant exposure, but it may be best to choose wild or wild-caught fish when possible. Wild-caught fish are born in a hatchery, then released into the wild and caught once they reach adulthood.
Tips and Recommendations
A recommended dietary intake for omega-3 fats have yet to be established. However, 1.1 grams and 1.6 grams daily for women and men respectively, is considered adequate, according to the University of Michigan. When choosing fish, look for it to have a fresh, ocean breeze aroma and avoid fish that smells overly fishy. Aim to eat fish within two days of purchase, otherwise, freeze it for long-term storage.