A common misconception for people with back conditions such as scoliosis is that they should avoid physical activity. In actuality, certain exercises can help to relieve the pain associated with this condition, which is characterized by an abnormal, sideways curve in the spine. Scoliosis sufferers should avoid some movements that can exacerbate the condition and worsen pain, says the Back Pain Expert.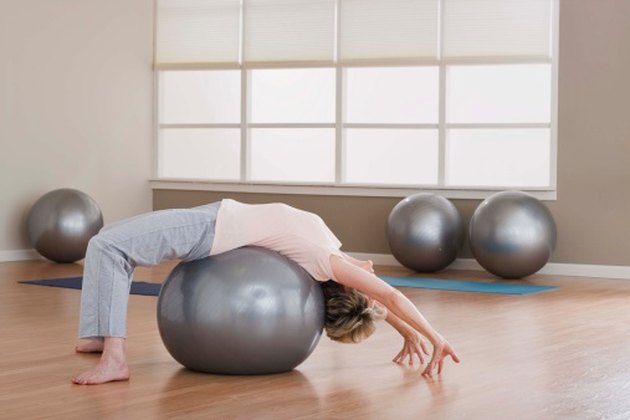 Weight Lifting
If you have scoliosis, the curve in your spine will have caused the muscles in your back to pull and move in different ways. This means traditional weight-lifting exercises can cause more pain and put pressure on the back, says the Back Pain Expert website, especially if you use heavy weights. In particular, dead lifts, where you hold a weighted bar and repeatedly bend over and then straighten, should be avoided.
Yoga Back Bends
According to The Scroth Method website, certain yoga postures can cause pain by putting harmful pressure on the back of someone with scoliosis. This includes any positions requiring you to bend backwards, such as the cobra, where you lie on the floor on your stomach and bend your back to lift your chest off the floor.
The wheel is another posture to be avoided, says The Scroth Method website. This posture involves lying on your back and pushing up on your hands and feet so you are bent over in a U shape. The Back Pain Expert website recommends speaking to your doctor before starting any form of yoga and always advising your yoga instructor of your condition so you can sit out on harmful positions.
Squats and Lunges
According to the Women Fitness website, exercises that work your lower body can place pressure on an injured back. This is particularly the case with standing squats, lunges and hamstring curls. Bodybuilding.com says these exercises require you to tense and work your spine as well as the targeted muscle group. The website advises avoiding any lower body exercise that causes back pain and says to ask an expert for variations that can be done while sitting or lying down to reduce pressure on your spine.