Lung cancer occurs when abnormal cells grow uncontrollably, then cluster together to form a tumor on one or both lungs. The effect of lung cancer on the body depends on the extent of the disease and where it has spread. If found early, this cancer can be isolated to the lungs, with symptoms localized to the respiratory symptom -- if there are any symptoms at all. Lung cancer that has spread will affect other organs or body systems, and can ultimately lead to death.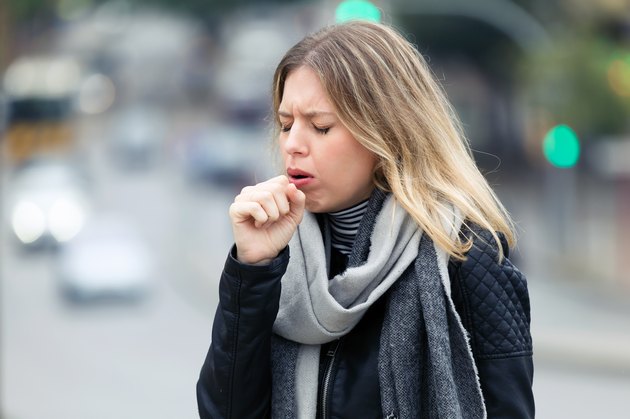 Early Stage Lung Cancer
Early stage cancer may not affect lung function enough to cause symptoms. In fact, 25 percent of lung cancer is identified by chance through chest imaging -- in people with no signs of this disease. But as the tumor grows, lung function becomes impaired from damage to lung tissue. If the tumor blocks an airway, interferes with getting adequate oxygen into the body, or if mucus or pus builds up in the airways, there can be more apparent signs of this disease. Worrisome lung symptoms include a cough that does not go away, coughing up blood, chest pain that gets worse with coughing or deep breathing, hoarseness, wheezing, fatigue, shortness of breath, unintentional weight loss, and recurrent lung infections such as pneumonia or bronchitis.
Advanced Lung Cancer
Unfortunately, only 16 percent of lung cancer is diagnosed at an early stage, so symptoms of advanced cancer may already be present at diagnosis. Lung cancer can have different effects people, depending on the primary tumor size and location where the cancer has spread. Cancer that has traveled to other areas of the body, or metastasized, can impact the body in a multitude of ways. Lung cancer most commonly spreads to the liver, brain, bones and adrenal glands, but can also metastasize to other locations.
Signs of Metastases
Signs of metastases will vary by location. If lung cancer has spread to the liver, it will impact the functioning of this organ and cause pain, nausea, yellowing of the skin and eyes, and appetite changes that can lead to weight loss. Doctors may suspect cancer has spread to the bones if there are fractures and severe bone pain. Cancer that is affecting the adrenal gland produces nonspecific symptoms such as fatigue, nausea or darkening of the skin, and brain metastases can lead to confusion, seizures, behavioral changes, or the inability to understand speech or move parts of the body. A variety of other symptoms can be present, which underscores the importance of anyone with lung cancer being closely monitored by a medical team.
Causes of Death
There are many changes in the body that can cause death from lung cancer. Large or numerous tumors can block lung function or impair other organs -- causing liver failure, for example, and advanced cancer can also cause death from infection, such as pneumonia. Advanced cancer can also invade and disrupt blood vessels, leading to death from hemorrhage, and malignant cancer can lead to excess clotting and cause fatal blood clots in the lungs. Advanced cancer can also lead to extensive weight loss and malnutrition from poor food intake, making starvation and severe dehydration the cause of death.
Warnings
According to the Centers for Disease Control and Prevention, lung cancer is the leading cause of cancer deaths in the U.S. Early detection and comprehensive treatment after diagnosis are important to improve outcomes. Let your doctor know if you have any persistent lung symptoms, and ask your doctor about lung cancer screening you are a current or former smoker, particularly if you are age 55 or older. If you have been diagnosed with lung cancer, work with your cancer doctors to discuss treatment options, which may include surgery, radiation therapy, chemotherapy and immunotherapy, and work closely with your medical team for ongoing medical monitoring.
Reviewed by Kay Peck, MPH RD