When you're finally ready to make changes to your diet to lose weight, you always wish the weight was off yesterday. It's always better to lose weight slowly if you want long-term results. Losing 15 pounds over six weeks is doable, but you may have to work a little harder to keep it off. Consult your doctor or dietitian to discuss safe ways to lose weight and help you design a plan that fits your needs.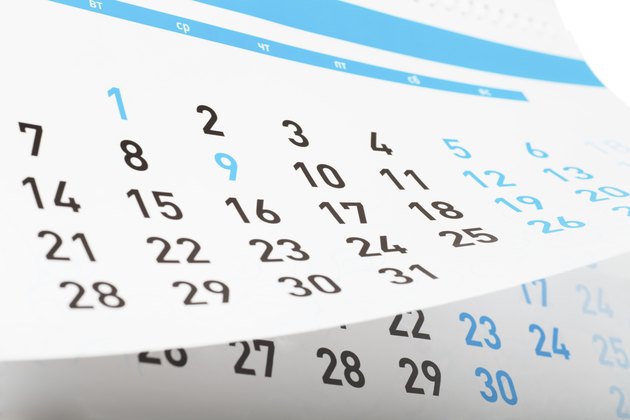 A Look at the Numbers
To lose fat and not muscle, you don't want to lose more than 2 pounds a week. When your goal is to lose 15 pounds in six weeks, that's a rate of 2.5 pounds a week, which may risk the loss of some of your precious calorie-burning muscle.
One pound of fat contains 3,500 calories, which means to lose the 15 pounds in six weeks, you need to create a 1,250-calorie daily deficit. A combination of diet and exercise works best to prevent extreme caloric restriction. The National Institute of Diabetes and Digestive and Kidney Diseases says you should not eat less than 1,000 calories a day unless directed by your physician.
You can determine your calorie needs to lose weight by first keeping track of what you usually eat, then subtracting 1,000 calories from that number. For example, if you eat 2,300 calories a day, you'll need to reduce your daily intake to 1,300 calories and work out to burn the additional 250 calories.
Low-Calorie Healthy Foods
One thousand calories is a large amount to cut from your diet, so the biggest hurdle you may have to get over is hunger. However, it's not calories that keep you full, but the amount of food you eat. To stay full while eating fewer calories to lose the 15 pounds, fill your diet with low-energy-dense foods, which contain few calories in a large portion, such as fruits and vegetables, fat-free dairy foods, whole grains, beans, lean proteins and broth-based soups. To keep a lid on calories, be careful with your use of oils, nuts and seeds, and avoid fried foods and sweets.
Sample Meal Plan
Your weight-loss plan should should include 3 meals and one snack. You might be tempted to skip meals to lose the 15 pounds, but it might lead to intense hunger and overeating.
A filling breakfast might include a three-egg omelet filled with 1/2 cup of diced red and green peppers and onions and 1 ounce of low-fat cheddar cheese, served with 1 1/2 cups of cubed cantaloupe, for 395 calories. For lunch, keep hunger away on your weight-loss diet with 2 cups of mixed greens topped with 1/2 cup of sliced cucumbers, 1/2 cup of grape tomatoes, 3 ounces of sliced chicken breast and 2 tablespoons of low-fat salad dressing with five whole-grain crackers and two clementines for 390 calories. At dinner, you might enjoy 3/4 cup of tofu stir-fried with 2 cups of mixed veggies such as broccoli, carrots and celery with 1 teaspoon of sesame oil, grated fresh ginger and low-sodium soy sauce and served with 1 cup of cooked brown rice for 500 calories. For a snack, eat 1 cup of vegetable and bean soup for 80 calories. This meal plan provides 1365 calories for the day.
Exercise to Lose 15 Pounds in Six Weeks
To make sure you meet your calorie deficit to lose 15 pounds, include regular exercise as part of your weight-loss program. There are a number of ways to burn those extra calories, but the amount you burn depends on your weight. For example, a 155-pound person burns 260 calories during a 30-minute low-impact aerobics class, while a 185-pound person burns more than 300 calories doing the same workout. Walking at a pace of 4 miles per hour can help a 155-pound person burn 167 calories in 30 minutes, while a 185-person burns 200 calories.
To limit muscle loss on your plan, include strength training two days a week as part of your workout routine. Muscle is more metabolically active than fat, which can help give your metabolism a boost. If your doctor gives the okay for you to exercise, consult a personal trainer to obtain an exercise plan that fits your needs.